December sees the release of our 2019 Annual Review. Here, our UK Chair and Senior Partner, Bill Michael shares how we're investing for the future of our firm and our people.
"I feel incredibly proud of the thousands of people who come to work at KPMG every day. We build this firm together, and we're setting ourselves up well for the future.
Our firm welcomes difference and celebrates diversity. The talented people who work for KPMG bring a variety of skills, attributes and ideas to our firm. Together, they form teams that deliver high-quality work for our clients, and our communities, every single day.
It's an exciting time to be part of our firm. It's a time of extraordinary change – for our business, our sector, our clients and broader society. It's also a time of reflection for our firm: on our purpose, how we operate and how we prepare for a very different future.
Transforming ourselves requires innovation, focus and significant resources. That's why over the past 12 months, we've been investing: in our people, our processes, and in the technology we need to deliver new kinds of solutions for clients. These investments are reshaping our firm and the way we work.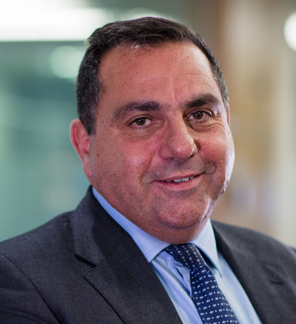 Audit has been at the heart of our firm for many decades and, as our profession faces increased scrutiny, it's only right that we respond to the calls for change. And that's exactly what we have done. KPMG has introduced changes such as stopping the provision of non-audit services to FTSE 350 companies that we audit and offering 'graduated findings', ahead of our peers. We've made significant investments, to drive audit quality, including £45m in 2019. That's because our firm, and the quality audits we produce, make a valuable contribution to the health of the UK's economy.
We're marking 150 years of KPMG in the UK in 2020. That's 150 years of our people – starting with William Barclay Peat – supporting the UK and helping it grow."
Bill Michael
UK Chair & Senior Partner