Technology is changing the world like never before, which makes it a really exciting time to join us. Working shoulder-to-shoulder with our clients, we are pioneering some of the most advanced tech-enabled solutions to help them solve some of their biggest business challenges and make a difference.
We're looking for people who are curious and passionate about technology – whether fresh out of school or ready to start a new opportunity. Help us innovate and take technology further, faster – for our firm and for our clients.
Join us on this 5-year apprenticeship, and you'll learn to do just that. You'll study towards a BSc (Hons) in Digital and Technology Solutions at Queen Mary University of London two days a week. For the other three days of the week, you'll bring your academic learning to life and gain practical and relevant work experience on projects at KPMG. You'll be inspired to learn every day – whether in the classroom, amongst your peers or working with experienced specialists.
Our work is both technical and diverse. You could find yourself learning more about specialisms such as software development, Cloud infrastructure, user experience design (UX), testing, coding or project management. Along the way, you'll develop lots of technical skills, learning languages including Java, Python and SQL and work towards technical accreditations through the likes of AWS, Google and Microsoft.
Through the apprenticeship, you'll develop a host of core skills to help you succeed in the workplace. From presenting on projects, to report writing and how to build your network, you'll learn how to work as part of a professional team and keep up the pace on projects. We'll make sure you have the support you need to take on new challenges every day.
Your study will be fully funded by KPMG, and you'll also receive a competitive salary and benefits such as 25 days holiday and a day off on your birthday. Join us, and take the opportunity to gain experience and a degree, all whilst building an exceptional career in technology.
Programme overview
Capability: Technology
Programme length: 5 years
Qualifications: BSc (Hons) Digital and Technology Solutions
Entry requirements
Standard entry requirements - UK
Minimum 5 GCSEs Grades A* – C or 4 – 9 GCSE inc. Maths (minimum Grade B or 5) and English Language.
Minimum of BBB at A Level (including Maths or Computer Science)
Please note if you are studying a BTEC this must include:
BTEC Certificate Distinction and BB at A Levels (including Maths or Computer Science)
BTEC Diploma double Distinction (in Computing or Engineering) and B in A level Maths

Please note we no longer accept the QCF BTEC Extended Diploma however we do accept the new RQF National Extended Diploma (DDD) in Computing or Engineering. Grade B in Maths A-level also required.
Standard entry requirements - Scotland
Minimum of 5 Standard Grades at Grades 1-3 inc. Maths (minimum Grade 2) and English (or equivalent Intermediate/National 5 qualification).
Minimum of BBB at Higher in one sitting and BB at Advanced Higher (Computer Science or Mathematics must be studied at Advanced Higher.)
Key skills
You don't need to have a background in coding, but you must show a clear interest in developing your coding skills
We don't expect you to have a technology background, or coding skills - but you will need a genuine passion and enthusiasm for all things technology and commitment to developing your coding skills. You'll love the latest technology, and you're eager to share your enthusiasm with others.
 You're curious. Always asking questions, you want to learn something new every day, and you're always keen to develop and improve both yourself and your work.
You can communicate your ideas clearly to those around you.
 Self-motivated and organised, you can manage your own workload and deliver high-quality, accurate work on time.
 You're someone who can spot new opportunities and has the initiative and resilience to make the most of them.
Training and development
When you join us, you will undertake a five-day induction programme, and then make the most of training opportunities through our 'Academy' community and learning platforms to support you in developing and building your softer and professional skills to aid your career.
On the academic side of things, you'll study at Queen Mary University of London – one of the world's leading universities. You'll study towards a BSc (Hons) Digital & Technology Solutions degree over five years. In years 1, 2, 3 and 5, each week you'll spend two days on campus and the rest of your learning will take place here in our offices. Year 4 will be dedicated solely to full time work experience at KPMG.
Our apprentices study alongside full-time students and receive additional, tailored support – for example, you'll have access to video chat with teaching assistants and guidance on how your apprenticeship relates to employability skills.
Your campus-based modules will include lectures, lab and tutorial sessions, practical and library-based research, presentations and group work. Your work-based modules will be closely aligned to your campus work and we'll make sure you have additional guidance if you need it.
Through 'The Academy', our learning and development centre, you'll have access to communities who'll help you to build your skills – and your career.
Meet Shahzaib
Meet Shahzaib
Meet our Software Engineering apprentice, Shahzaib, who is studying towards a BSc (Hons) degree at Queen Mary University of London alongside working on projects at KPMG.
Case study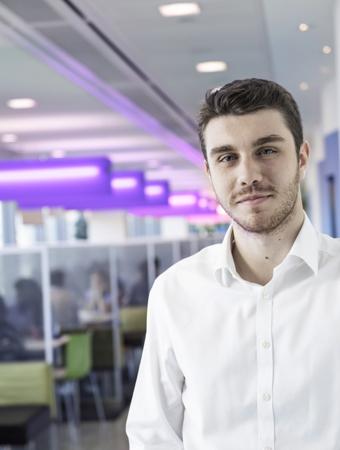 Software Engineering Apprenticeship | London
Mario
Mario studied for a BTEC in Information Technology before leaving college to become a Technician, working on repairing IT products. After a year, he was looking for a bigger challenge and was impressed by KPMG's track record in developing young talent through apprenticeships.
"When I came to KPMG for an interview, they really opened my eyes to the scale and level of the tech side of their business. I had no idea that KPMG worked in alliance with companies like Google, Microsoft and Amazon - or that the technology consulting part of the firm was growing so fast.
Everyone at KPMG gives you a warm welcome when you join and you get to meet with other apprentices during your first week. This induction provides you with a great introduction to the business and you're also provided with a performance manager to mentor you – it all just shows how seriously they take our development.
Read Mario's story