KPMG360° Apprenticeship Programme
Inspire an extraordinary future on this innovative rotational opportunity
About KPMG360°
We love meeting talented people full of ideas, ambition and passion. People like you, in fact. That's why we've created an innovative, rotational apprenticeship; one with you firmly in mind.
KPMG360° lives up to its name, offering you amazing insights into our business. In each team you'll be learning from some of the best and brightest people in the business world, who want to help you progress.
You'll be setting off on a journey of discovery that's as exciting as it is challenging. It's up to you where you go and how far you travel. KPMG360° consists of three levels – Foundation, Technician and Professional – offering you choice and flexibility. At each step of your journey, you'll develop your skills and broaden your knowledge in a supportive and collaborative environment.
Foundation Level (Year 1)
Once you join the programme you will normally complete two placements in different business areas. The exact rotations vary between offices, determined by the availability of roles within each region. You'll also complete the AAT Level Three Qualification.
Technician Level (Years 2 and 3)
Completion of the AAT Level four combined with longer placements will deepen your industry and technical knowledge.
Professional Level (Years 4, 5 and 6)
You will decide whether to specialise in Audit, Tax, Consulting or Deal Advisory and your learning pathway will reflect this decision. Where relevant, you will study towards further professional qualifications (qualifications could include ACA, CTA, CIMA).
Please note that the availability of business placements varies from office to office, depending on the roles available in each location. 
Programme overview
Capability: Rotational
Programme length: 3 or 6 years depending on the career path you choose
Qualifications: Dependent on the path you choose, but could include; ACA, CTA or CIMA
Entry requirements
Standard entry requirements - UK
Minimum 5 GCSEs at A* - C or 4 - 9 (inc. English Language and Maths)

Minimum of 104 UCAS points under the 2017 UCAS tariff points system e.g. BCC at A-Level or equivalent qualifications, not inc. General Studies
Standard entry requirements - Scotland
Minimum 5 Standard Grades at Grades 1 – 3 which must inc. Maths and English (or equivalent Intermediate/National 5 qualification)

Minimum of 104 UCAS points under the 2017 UCAS tariff points system at Higher/Advanced Higher Level e.g. BBBB
Key skills
Ambitious, with a keen interest in business
Can take accountability for delivering high quality, accurate work
Self-motivated and can organise own workload
Strives to continually improve
Forward-thinking, curious and keen to learn 
A high degree of adaptability and motivated by the chance to work in new teams and on different projects
Training and development
When you join us, you'll undertake an induction programme and have regular training sessions to develop your professional skills e.g. presentation skills, resilience, project management and team working.
KPMG is dedicated to helping ensure you have the best chance of passing your exams, and therefore have a dedicated Professional Qualification Training and Accreditation team who support each KPMG apprentice to fulfil their potential. 
You'll gain an overview of a variety of projects, developing commercial awareness, communication, team-work and technical skills as you undertake structured placements across Audit, Tax, Consulting and Deal Advisory. 
Play an integral part in the team, developing relationships internally and with key members of our client teams.
Through 'The Academy', you'll have access to communities who will support and develop you so that you build your skills and career.
Case study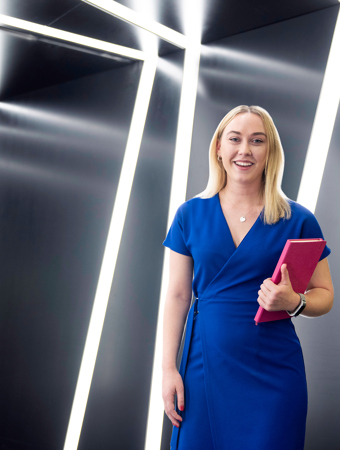 KPMG360º Apprenticeship Programme | Manchester
Lydia
Lydia joined the KPMG Apprenticeship Programme after leaving school at the age of 18. She believed learning on the job was the best way to get ahead, and looked into programmes that could cover the costs of her study.
"I wanted to carry on training after Sixth Form, but I wanted to do something relevant and start work as soon as possible. I'd seen my older brothers finish university and struggle to get a graduate job afterwards. I wanted paid experience that would get me ahead.
"Any expectations I had for my apprenticeship here have been exceeded. The amount of responsibility and trust I'm given and the level of work that I've been able to complete is beyond what I hoped for."
I applied to other apprenticeship programmes but KPMG's programme was the one I really wanted. I was drawn to the opportunities to take secondments abroad, and by the fact that KPMG is part of a global network of firms. KPMG is so well-established, I knew also I'd be supported throughout my training.
Find out more
View other apprentice programmes