Audit is the largest of KPMG UK's practices, providing independent challenge and delivering quality audits to organisations of all shapes and sizes. Audit requires a deep understanding of the company, their controls, processes and systems as well as their aims and the risks they face. Audit helps to assure stakeholders that published accounts are 'true and fair'.
Working in audit equips you with valuable technical skills, broad commercial understanding and in-depth knowledge of one or more industry sectors and business as a whole.
Dependent upon the office you join, you may be allocated to a specific industry sector or across a variety of industries - the companies we audit vary in size, complexity and maturity. This provides experience in an environment that embraces diversity and the positive impact it has on our business, companies and the community. From day one, you will build strong relationships, and gain an understanding of both the issues companies face today and the challenges on their horizons tomorrow.
One of our priorities is to inspire and develop your potential, we do this by making sure you have the chance to experience a rich variety of work, play a big part in our continuous improvement initiatives and taste life in our different audit functions. We also perform work on wider assurance engagements and have a large and growing internal audit base.
Graduates joining the Audit Programme will also have the chance to work in a specific business area whilst studying towards a valuable professional qualification. Additionally, all of our employees have access to an extensive programme of internal training geared towards your career and personal development, meaning progression can be rapid. From the start you'll be an integral part of a team, and throughout your training you will be coached and supported to manage and develop your wider team, together with nurturing relationships and delivering quality audit work.
We offer two different training paths for our Audit Graduate Programmes – Empowered or Intensive. All programmes take 3 years to complete; they just offer different routes to achieving success. Our Empowered Programme offers you the chance to work and study near your KPMG office and follow blended work experience and study (classroom and online learning) towards ACA or CA (Scotland) qualification - local to your home office location. Some travel will be required for work and because audit is seasonal, you can expect a greater workload at the busiest times of the year. Exams will be spread out over the 3 year programme.
Programme overview
Capability: Audit
Programme length: 3 years
Qualifications: ACA or CA (Scotland)
Entry requirements
As a general rule, you'll be expected to meet the following requirements (*or equivalents)
Minimum Grade B GCSE* Maths
Minimum Grade B GCSE* English Language
Minimum of 300 UCAS* tariff points
Minimum 2:1 degree in any discipline
Please note, we only consider a candidate's 'top' 3 A-Level grades and do not accept General Studies.
At KPMG, we look at more than just your academic results. We will review your application, together with your performance in our assessments, to ensure that you have the best opportunity to demonstrate your potential. We will be considering your strengths and achievements alongside a number of other metrics, including technical background and/or experience, to ensure that you have the skills to succeed at KPMG.
Key skills
Throughout the recruitment process we will be looking to learn more about your strengths.
To be successful on this programme, you will be required to demonstrate the strengths that we look for in our graduates at KPMG.
Learn more about what we look for and how to apply here.
Training and development
The training, development and regulation of our Audit professionals is critical to the future success of our business which is why our people are trained to become experts in their field and supported to study for a professional qualification. 
The Empowered Programme is KPMG's blended ACA product. Where the onus is on you to take ownership of your studies and help shape your learning. The programme uses innovative technology and is delivered via a blend of Online Classroom Live and Recorded courses plus in-centre classroom courses. It also has wrap-around support which consists of dedicated professional coaches, online portal content and live and recorded additional study sessions, which means there is a form of support for your every need.
This blended approach enables you to study and learn the content at a pace suited to your learning style, but ensures all are at the right technical level prior to stepping into revision elements so you can focus on your exam technique before the exam.
The structure of the programme spreads the ACA examinations over the lifetime of the 3 year training contract so that you are able to build up your technical knowledge, and can gradually apply what you are learning in training to your workplace experience.
Regardless of route, you will be supported by KPMG's dedicated Professional Qualification Training and Accreditation team whose focus is to ensure that each KPMG trainee fulfils their potential.
Additional important information
In Audit, we currently offer either the ACA or CA depending on office location. For those joining an office in Scotland we offer the ICAS (CA). For other offices we offer different ACA routes that you will be able to select upon applying.
ICAS is both the tuition provider and the professional body which means they both create and teach the material you require to gain the relevant knowledge expected for their syllabus. The programme consists of classroom-based tuition and revision, with wrap-around online and self-study learning. The training is block release which means you are out of the business for four to eight week periods at a time enabling you to focus solely on your professional qualification and then go back into the business once complete. The structure of the programme requires you to take ownership of your studies but also provides a good balance, allowing you to shape your own learning and seek support as and when you need it. The structure of the programme spreads the CA examinations over the lifetime of the 3 year training contract, so that you are able to build up your technical knowledge, and can gradually apply what you are learning in training to your workplace experience.
To review an example of an audited consolidated financial statement take a look at KPMG's published Annual Review.
Ore – Audit Empowered Graduate trainee
Ore – Audit Empowered Graduate trainee
Ore shares a brief insight into our Audit Empowered programme. She enjoys the balance of spreading her studies and work experience over the course of the 3 year programme.
Case study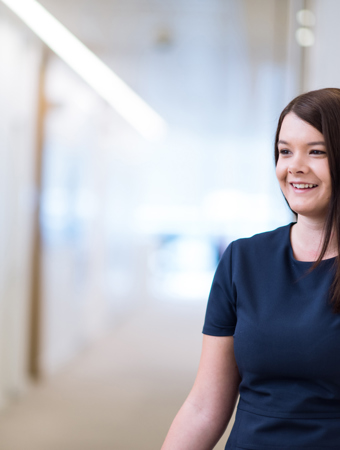 Audit graduate programme | Reading
Rebecca
When I was considering where I wanted to start my career, I focused on finding somewhere that was committed to investing in their people.
After reading online and talking to people I know, KPMG's name came up often. Their values came across to me when I met existing employees, and I felt that they took the time to find out more about me. It felt like a natural fit.
Ever since joining, I've had training on a very regular basis. It's really well tailored to what stage you are in your progression and anticipates when you might be heading to the next level.
Read Rebecca's story