Audit is the largest of our UK practices and our teams provide independent insight, challenge and high-quality audit expertise to organisations of all shapes and sizes. Our work in audit is all about examining organisations and ensuring their published accounts provide a 'true and fair' view of their financial position and results.
As a graduate trainee, you'll have the chance to work on complex audit engagements and play a big part in our continuous improvement initiatives. You may be allocated to a specific industry sector or work across a variety of industries, dependent upon the regional office you join. 
Audit relies on an investigative approach, and you'll challenge and question to ensure high audit quality. The work is challenging, yet rewarding, and those who are resilient, agile and have a curious mindset will thrive, working alongside some of the brightest minds in business and the support this brings.
On this programme, you'll study for the ACA qualification via the intensive study route, frontloading most of the exams in your first year. Once completed, you'll have developed valuable technical skills, broad commercial understanding, and in-depth knowledge of one or more industry sectors, all of which will empower you to build an exciting and varied long-term career with us in audit.
We're reimagining how we work at KPMG. Our firm is creating a tech-driven business to empower and equip our people to be outstanding in delivery – through inspiring workspaces, innovative ways to collaborate and flexible ways of working. In your role, you'll work flexibly across your location region – at KPMG offices, engagement sites and from home. Some travel will be required for work and because audit is seasonal, you can expect a greater workload at the busiest times of the year.
Join us and you'll be part of an inclusive team that's supportive of individual wellbeing and embraces diversity, and the positive impact this has on our business, the companies we audit and the community.
Programme overview
Capability: Audit
Programme length: 3 years
Qualifications: ACA or CA (Scotland only)
Entry requirements
As a general rule, you'll be expected to meet the following requirements (*or equivalents)
Minimum Grade 6 GCSE* Maths
Minimum Grade 6 GCSE* English Language

Minimum of 120 UCAS points* under the 2017 tariff point system at A Level 

Minimum 2:1 degree in any discipline
Please note, we only consider a candidate's 'top' 3 A-Level grades and do not accept General Studies.
At KPMG, we look at more than just your academic results. We will review your application, together with your performance in our assessments, to ensure that you have the best opportunity to demonstrate your potential. We will be considering your strengths and achievements alongside a number of other metrics, including technical background and/or experience, to ensure that you have the skills to succeed at KPMG.
Key skills
Throughout the recruitment process we will be looking to learn more about your strengths.
To be successful on this programme, you will be required to demonstrate the strengths that we look for in our graduates at KPMG.
Learn more about what we look for and how to apply here.
Training and development
The training and development of our people is critical to the future success of our business. We want all of our trainees to embrace a growth mindset of learning every day, which is why we have created a rich curriculum and learning community to help trainees build their skills and fulfil their potential. This ranges from an immersive 5-day induction experience, formal training courses, leadership knowledge bites, learning journals, online courses and networking events – all aligned to our life-long learning strategy and part of our overall student package.
In addition, in Audit, we currently offer either the ACA or CA depending on office location. For those joining an office in Scotland, we offer the ICAS (CA). For other offices, we offer different ACA routes that you will be able to select upon applying Intensive or Empowered.
The Intensive Programme is KPMG's upfront ACA learning product. The Intensive Programme is KPMG's front-loaded, classroom-based ACA product which focuses on upskilling trainees quicker. This means that for the first circa 10 months of your training contract you will solely focus on passing 14 out of 15 ACA exams and come into the business on two work experience placements. One is a structured, work experience placement in the busy season of your programme, and the second comes after you have completed your 14 exams. This programme allows you to focus purely on your professional qualification in your first year. In the remaining two years of your training contract you can concentrate on building up a fantastic range of work experience (with only one exam left to complete) and will have the technical knowledge to apply within the workplace. The entire programme is supported by a wide range of mechanisms that will be applied by your tuition provider or KPMG when you require them, but due to the intense pace of the programme you will need to be really dedicated in your approach to learning. The three main training hubs for the Intensive Programme are London, Birmingham and Manchester. Regardless of the selected home office, you will be expected to relocate to one area in order to dedicate the time to attend the programme for the first 10 months.
Additional important information
To review an example of an audited consolidated financial statement take a look at KPMG's published Annual Review.
In your role, you'll work flexibly across your location region – at KPMG offices, engagement sites and from home.
Molly – Audit Intensive Graduate trainee
Krupa – Audit Intensive Graduate trainee
Krupa shares a brief insight into our Audit Intensive programme. She enjoys being able to complete 14 out of the 15 exams in the first ten months, through attending college everyday.
Krupa – Audit Intensive Graduate trainee
Molly – Audit Intensive Graduate trainee
Molly shares her experience since joining our Audit Intensive programme. She joined after studying a STEM degree, and explains how she can apply her academic background into the world of work.
Case study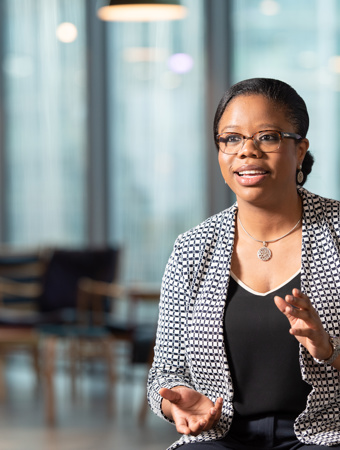 Audit graduate programme | London
Adaobi
"I've always been motivated to learn new things and that was what drew me to KPMG's graduate programme. Their training offering is broad-ranging, and they genuinely want to help you be the best you can be.
I actually turned down other offers in order to take this role. Several friends who already worked at KPMG, and whose opinions I trust, told me about their good experiences working here. That was a big factor along with my own research."
Read Adaobi's story