Our Forensic team helps clients protect their businesses by reducing reputational risk and commercial loss. Combining accounting investigation, technology and industry skills, we come in where facts and figures don't agree, or where behaviour doesn't comply with expectations or regulations. Through investigations and compliance, fraud risk management, corporate intelligence, anti-bribery, anti-money laundering, and dispute advisory services, we help to diffuse challenging situations.
Our 3 year Forensic Empowered Graduate Programme is designed to build your commercial and business awareness across the Forensic practice. It also provides the opportunity to study towards the Institute of Chartered Accountants in England and Wales qualification (ACA) or the Institute of Chartered Accountants (CA) in Scotland. You'll receive structured internal training and opportunities to help clients across a variety of sectors and services. 
The programme gives you opportunity to build skills and experience in one of our specialist areas:
Investigations and Compliance - this is the largest team within Forensic, often working with clients in sensitive and complex environments to conduct an independent investigation.
Dispute Advisory Services (DAS) - the Dispute Advisory Services team helps prevent and resolve commercial disputes by supporting our clients to assess damages and resolve accounting, audit and finance-related issues.

Contract Compliance - KPMG helps clients to increase their visibility of the third party's compliance with the complex contractual terms and conditions in place, and supports them in exercising their contractual rights.
Like our clients, we're having to adapt. This means new working patterns, physical adjustments in our offices and new ways of interacting with our colleagues as well as the organisations we work with - we are harnessing technology to help underpin this change.
Programme overview
Capability: Consulting
Programme length: 3 years
Qualifications: ACA or CA (in Scotland)
Entry requirements
As a general rule, you'll be expected to meet the following requirements (*or equivalents)
Minimum Grade B GCSE* Maths
Minimum Grade B GCSE* English Language

Minimum of 128 UCAS points* under the 2017 tariff point system at A Level

Minimum 2:1 degree in any discipline
Please note, we only consider a candidate's 'top' 3 A-Level grades and do not accept General Studies.
At KPMG, we look at more than just your academic results. We will review your application, together with your performance in our assessments, to ensure that you have the best opportunity to demonstrate your potential. We will be considering your strengths and achievements alongside a number of other metrics, including technical background and/or experience, to ensure that you have the skills to succeed at KPMG.
Key skills
Throughout the recruitment process we will be looking to learn more about your strengths.
To be successful on this programme, you will be required to demonstrate the strengths that we look for in our graduates at KPMG.
Learn more about what we look for and how to apply here.
Training and development
The Empowered Programme is KPMG's blended ACA product - where the onus is on you to take ownership of your studies and help shape your learning. The programme uses innovative technology and is delivered via a blend of Online Classroom Live and Recorded courses plus in-centre classroom courses. This blended approach enables you to study and learn the content at a pace suited to your learning style, but ensures all are at the right technical level prior to stepping into revision elements so you can focus on your exam technique before the exam. The structure of the programme spreads the ACA examinations over the lifetime of the 3 year training contract so that you are able to build up your technical knowledge, and can gradually apply what you are learning in training to your workplace experience. Regardless of the ACA programme route you choose both have wrap around support which consists of dedicated professional coaches, online portal content and live and recorded additional study sessions, which means there is a form of support for your every need.
For those joining an office in Scotland we offer the ICAS (CA) - both the tuition provider and the professional body which means they both create and teach the material you require to gain the relevant knowledge expected for their syllabus. The programme consists of classroom-based tuition and revision, with wrap-around online and self-study learning. The training is block release which means you are out of the business for 4 to 8 week periods at a time enabling you to focus solely on your professional qualification and then go back into the business once complete. The structure of the programme requires you to take ownership of your studies but also provides a good balance, allowing you to shape your own learning and seek support as and when you need it. The structure of the programme spreads the CA examinations over the lifetime of the 3 year training contract, so that you are able to build up your technical knowledge, and can gradually apply what you are learning in training to your workplace experience.
The impact of COVID-19 on professional qualifications:
The vast majority of KPMG's staff undertaking a professional qualification were able to continue with their studies and examinations following the COVID-19 pandemic, including those studying with the ICAEW and ICAS. We expect studies to be back to our usual mix of classroom and remote learning detailed above for our 2021 intake, and exams to be scheduled normally.
Additional important information
Whilst you will apply to a specific office location, you will likely be required to work flexibly across the region, at KPMG offices, client sites and with varying levels of home working.
Case study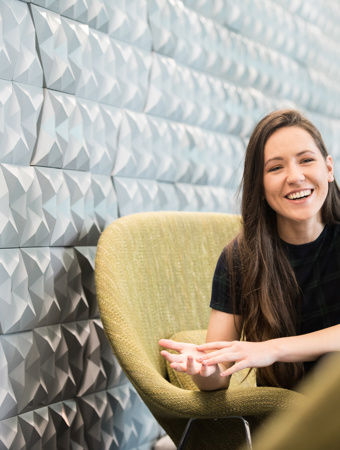 Consulting graduate programme | London
Hannah
This job actually didn't cross my mind until I read about the scheme online. It looked really varied, something that wouldn't be the same thing day in, day out.
Then KPMG came to Durham and I met some of their grads. You couldn't fail to notice how they genuinely enjoyed their jobs. They talked about the friendly environment, how they were still learning. When I compared that to other people I knew, it seemed really different, in a positive way.
Read Hannah's story
View other Consulting programmes