Home

>

Management Consulting
Management Consulting is a priority area for our Advisory business – and invaluable to our clients' businesses too, as we help them to address some of their hottest topics. We focus on helping clients add lasting value and enhance their performance by delivering sustainable improvements to their business. On this programme, you'll be given the chance to gain exposure across a range of disciplines – offering an unrivalled insight into KPMG.
Our Management Consulting Graduate Programme is designed to give you the experience and core consulting skills you need to get your career off to a flying start. Starting as you mean to go on, you'll build your commercial understanding and business acumen to deliver real value to our clients straight away.
Working with our clients that include some of the most well-known and largest organisations in the world, Management Consulting is dynamic and fast-paced. Enhancing businesses across a number of sectors through a wide variety of challenges; every day is different. 
Programme overview
Capability: Consulting
Programme length: 3 years
Qualifications: Chartered Institute of Management Accountants (CIMA)
Entry requirements
As a general rule, you'll be expected to meet the following requirements (*or equivalents)
Minimum Grade B GCSE* Maths
Minimum Grade B GCSE* English Language
Minimum of 320 UCAS* tariff points
Minimum 2:1 degree in any discipline
Please note, we only consider a candidate's 'top' 3 A-Level grades and do not accept General Studies.
At KPMG, we look at more than just your academic results. We will review your application, together with your performance in our assessments, to ensure that you have the best opportunity to demonstrate your potential. We will be considering your strengths and achievements alongside a number of other metrics, including technical background and/or experience, to ensure that you have the skills to succeed at KPMG.
Key skills
Throughout the recruitment process we will be looking to learn more about your strengths.
To be successful on this programme, you will be required to demonstrate the strengths that we look for in our graduates at KPMG.
Learn more about what we look for and how to apply here.
Training and development
On the Management Consulting Graduate Programme you will study towards the full CIMA qualification. Throughout your studies, you'll be given support and guidance from our Professional Qualification & Accreditation (PQA) team who are dedicated to giving you the best chance of passing your exams first time.
KPMG's programmes are underpinned by an online portal so you can access technical content and learning activities, share information and contact your tutors for all the support you need at the click of a button.
By joining KPMG you'll be joining a long list of graduates who've already excelled in their professional exams. The fact that KPMG trainees consistently outperform Institute pass marks is a real testament to our people and the quality of our training.
Case study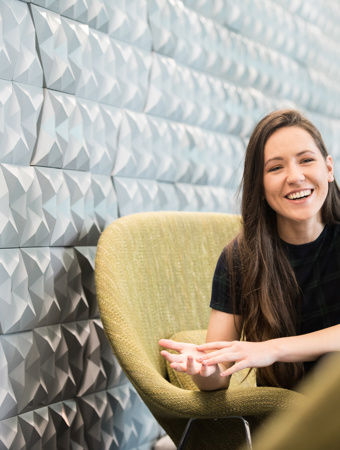 Graduate Trainee - Consulting Forensics | London
Hannah
Hannah did her undergraduate degree in Maths at Durham University before joining the Forensic graduate scheme in the Risk Consulting department of our London Office.
"This job actually didn't cross my mind until I read about the programme online. It looked really varied, something that wouldn't be the same thing day-in, day-out. Then KPMG came to Durham University and I met some of their Graduates. You couldn't fail to notice how they genuinely enjoyed their jobs. They talked about the friendly environment and how they were still learning. When I compared that to other people I knew, it seemed really different in a positive way.
"When you're doing well, they let you know. When you go the extra mile, you're noticed."

I recently had a moment that made me realise that I'd made the right choice and that KPMG was the place for me. I participated in several internal focus groups that fell in a single week; they were for Women in Forensic Banking, Breathe – the LGBT network – and graduate recruitment too. It made me realise that this is a business going out of its way to create a place where people want to work."
Read Hannah's story
View other Consulting programmes