Home

>

Mergers & Acquisitions
In today's ever-changing world, businesses need to move quickly if they want to make the most of new opportunities. In Mergers & Acquisitions, we provide the advice that enables organisations on both sides of a transaction to navigate the challenges successfully. Our remit spans acquisitions, disposals, mergers and IPOs across a host of end markets and sectors and is at the sharp end of business strategy. It makes life as a graduate here very fast-paced – and incredibly rewarding.
Our 3 year programme will give you a solid insight into the world of business, combining structured training, work experience and on-the-job coaching. You'll not only gain a broad commercial awareness, you'll also develop an end-to-end understanding of the deal and economic cycle.
Whether we're advising sellers or buyers, we create holistic solutions that add real value. You might find yourself helping a business prepare for exit, for example, or looking at which companies could be open to acquisition in a particular market. A market leader, we are consistently ranked amongst the most active corporate finance advisors globally and the deals we advise upon are often international in scope – many of these in the public eye. We operate within a robust framework but, as you grow in experience, you'll have the opportunity to shape the strategies behind our clients' decisions and help to influence their successes. We're looking for people with an entrepreneurial spirit and a collaborative mentality. You'll be keen to share ideas and build relationships with internal teams and external stakeholders alike. You'll also welcome different perspectives and be happy to share your own.
We work with a range of clients including both private and public companies, the Public Sector, private equity houses, leading financial institutions and individuals across two core areas: Corporate Finance and Transaction Services.
We need to be agile and innovative in the way we interact with our colleagues and clients in the current environment and we embrace technology and new ways of working to continue to provide our clients with the advice and support they need.
Programme overview
Capability: Deal Advisory
Programme length: 3 years
Qualifications: ACA
Entry requirements
As a general rule, you'll be expected to meet the following requirements (*or equivalents)
Minimum Grade B GCSE* Maths
Minimum Grade B GCSE* English Language

Minimum of 128 UCAS points* under the 2017 tariff point system at A Level

Minimum 2:1 degree in any discipline
Please note, we only consider a candidate's 'top' 3 A Level grades and do not accept General Studies.
At KPMG, we look at more than just your academic results. We will review your application, together with your performance in our assessments, to ensure that you have the best opportunity to demonstrate your potential. We will be considering your strengths and achievements alongside a number of other metrics, including technical background and/or experience, to ensure that you have the skills to succeed at KPMG.
Key skills
Throughout the recruitment process we will be looking to learn more about your strengths.
To be successful on this programme, you will be required to demonstrate the strengths that we look for in our graduates at KPMG.
Learn more about what we look for and how to apply here.
Training and development
The training and development of our M&A professionals is critical to the future success of our business, which is why our people are trained to become experts in their field and supported to study for a professional qualification.
The Intensive Programme is KPMG's front-loaded, classroom-based ACA product which focuses on upskilling trainees more quickly. This means that for the first 12 months of your training contract you will solely focus on passing 14 out of 15 ACA  exams, and come into the business on two work experience placements. One is a structured, 6 week work experience placement during the first quarter of the calendar year after you join, and the second comes after you have completed your 14 exams.
The entire programme is supported by a wide range of mechanisms that will be applied by your tuition provider or KPMG when you require them, but due to the intense pace of the programme you will need to be really dedicated in your approach to learning.
This programme allows you to focus purely on your professional qualification in your first year. In the remaining 2 years of your training contract you can concentrate on building up a fantastic range of work experience (with only one exam left to complete) and will have the technical knowledge to apply within the workplace.
The 3 main training hubs for the Intensive Programme are London, Birmingham and Manchester. Regardless of the selected home office, you will be expected to relocate to one area in order to dedicate the time to attend the programme for the first 12 months. This includes trainees joining our Scotland offices, who will be expected to relocate to Manchester to attend the Intensive Programme. 
Additional important information
Due to the intensive nature of the programme, holiday dates are mandated during the initial 12 months of the programme to fit in with the study and exam schedule – with no exceptions.
Whilst you will apply to a specific office location, you will likely be required to work flexibly across the region, at KPMG offices, client sites and with varying levels of home working.
Case study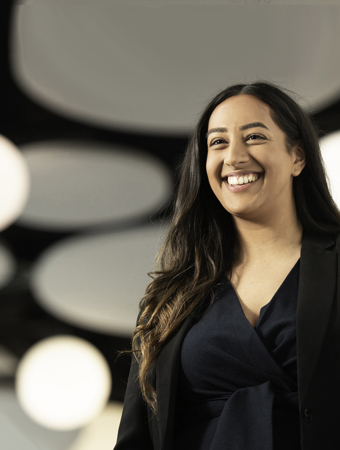 Deal Advisory graduate programme | Birmingham
Rani
Rani initially gained an insight into KPMG through our undergraduate programmes when she was an Economics student at the University of Birmingham and found she enjoyed the culture of the firm.
"In the first year of my degree, I attended the KPMG Insight Programme. I especially liked how people-centred the firm is. It was through that programme that I was offered an internship which I also really enjoyed.  That led me onto the graduate scheme.    
I like having different tasks and trying things that are completely new to me. I'm working in Transaction Services, which is focused on the early stages of a deal. A typical example of our work is when a client asks us to help them sell their company, we'll look into the accounts, do due diligence and produce a report to give to the buyers.
Our partners often ask you to research a company. That involves searching across everything from news to relevant mergers – to then share back with them. I find it really interesting.  It's great to have that kind of responsibility and partners are genuinely interested in what you think.
Read Rani's story
View other programmes in Deal Advisory