People are at the heart of our business. We celebrate our differences and seek out the individual potential in everyone. And when clients value their people as much as we do, pensions tend to be firmly on their agenda. So whilst the word 'pensions' may conjure up images of retiring and taking things easy, a career in this demanding sector is anything but sedate.
For many organisations and Trustee groups, a detailed pensions strategy is one of the cornerstones of financial health. Very much a hot topic in public debate, the pensions industry is the subject of governmental scrutiny, new legislation and a high profile field where you'll develop a wide range of consultancy skills.
A career in Pensions requires both a high level of numeracy and communication skills – as well as the enthusiasm and drive needed to gain professional qualifications and succeed in a fast moving market. Whilst it won't be easy, this Graduate Programme offers the chance to build a strong foundation in a fascinating industry.
Sign up to our Talent Community below to receive KPMG news and career information, and be one of the first to hear about our graduate opportunities.
Programme overview
Capability: Tax & Pensions
Programme length: Dependent on qualification pathway and progression
Qualifications: Study towards becoming a Fellow of the Institute and Faculty of Actuaries (IFoA)
Entry requirements
As a general rule, you'll be expected to meet the following requirements (*or equivalents)
Minimum Grade B GCSE* Maths
Minimum Grade B GCSE* English Language
Minimum of 300 UCAS* tariff points, which must include a B in Maths A-Level
Minimum 2:1 degree in any discipline
Please note, we only consider a candidate's 'top' 3 A-Level grades and do not accept General Studies.
At KPMG, we look at more than just your academic results. We will review your application, together with your performance in our assessments, to ensure that you have the best opportunity to demonstrate your potential. We will be considering your strengths and achievements alongside a number of other metrics, including technical background and/or experience, to ensure that you have the skills to succeed at KPMG.
Key skills
Throughout the recruitment process we will be looking to learn more about your strengths.
To be successful on this programme, you will be required to demonstrate the strengths that we look for in our graduates at KPMG.
Learn more about what we look for and how to apply here.
Training and development
As a graduate in our Pensions Actuarial team, you'll enjoy a range of training and development opportunities to study towards becoming a Fellow of the Institute and Faculty of Actuaries. So, as well as study support and guidance to help you on your way to becoming a qualified Actuary, you'll benefit from:
On-the-job training on a regular basis
A graduate induction event
Specific technical and softer skills training on a national basis
Regular technical training and opportunities to develop wider market knowledge throughout your career within pensions
A wide range of instructor-led and self-study courses through the KPMG Business School, including consultancy and softer skills
A buddy from your first day to help you settle in
A Study Mentor who helps advise and guide students through the study and exam process
A Performance Manager to support you with your progress, performance and any work or HR-related issues.
Case study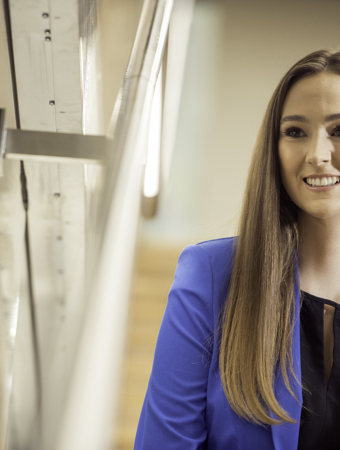 Pensions Actuarial graduate programme | Manchester
Rachel
I started to consider KPMG after I talked with some of their representatives at a university graduate recruitment event. They were really nice and approachable.
I liked that I would be given the opportunity to study as well as work. Because I'm on the Pension Actuarial graduate training scheme, I'm doing a qualification to become a Fellow of the Faculty of Actuaries. It's a long programme compared to many – five years – but it carries a lot of weight. KPMG has given me amazing support in preparing for my exams, and those of us on the programme get 40 days off per year for study.
Rachel
View other Tax & Pensions programmes