Technology underpins many of the most influential organisations in the world. It enables the biggest business decisions and connects people around the globe. Data is the common thread that connects technology and business people together, and Analytics is the method by which data is transformed into insights that help businesses take action and generate enhanced value. Our Analytics teams use advanced data analysis technologies and techniques to help our clients answer business questions and address commercial issues. We combine data analytics, modelling, business intelligence, advanced analytics and data science skills to help our clients.
Our 3 year Analytics graduate programme is designed to offer the client exposure and support you need to secure a successful career in analytics. You will develop technical skills, commercial acumen, core consulting skills and a flair for business. Grow your own way in an environment where learning is continuous. 
People who excel within the Analytics graduate programme are passionate about continually adapting their skills and knowledge to find solutions that meet our clients' needs. They are intellectually curious and committed to telling stories with data, working with the best on emerging practices and technologies. Whilst you don't necessarily need to be a technical guru, we do look for a keen interest in technology and business issues, as well as good communication skills and the desire to take on early responsibility - most importantly, you'll have an appetite to learn how Analytics can best support our clients. 
We'll provide plenty of support and a blend of development opportunities to help you achieve your potential – including client work and the chance to gain technical qualifications.
We're reimagining how we work at KPMG. Our firm is creating a tech-driven business to empower and equip our people to be outstanding in delivery – through inspiring workspaces, innovative ways to collaborate and hybrid ways of working. In your role, you'll work flexibly across your location region – at KPMG offices, engagement sites and from home.
Our Class of 2022 Graduate Programmes are now closed for applications. Class of 2023 Graduate Programmes will be opening for applications in the autumn. Keep an eye on this website for updates or follow us on LinkedIn, Instagram, Facebook or Twitter.
Programme overview
Capability: Technology & Engineering
Programme length: 3 years
Qualifications: Technology specific accreditation, certification and/or relevant learning modules
Entry requirements
As a general rule, you'll be expected to meet the following requirements (*or equivalents)
Minimum Grade 6 GCSE* Maths
Minimum Grade 6 GCSE* English Language

Minimum of 120 UCAS points* under the 2017 tariff point system at A Level

Minimum 2:1 degree in any discipline
Please note, we only consider a candidate's 'top' 3 A-Level grades and do not accept General Studies.
At KPMG, we look at more than just your academic results. We will review your application, together with your performance in our assessments, to ensure that you have the best opportunity to demonstrate your potential. We will be considering your strengths and achievements alongside a number of other metrics, including technical background and/or experience, to ensure that you have the skills to succeed at KPMG.
Key skills
Throughout the recruitment process we will be looking to learn more about your strengths.
To be successful on this programme, you will be required to demonstrate the strengths that we look for in our graduates at KPMG.
Learn more about what we look for and how to apply here.
Training and development
The training and development of our people is critical to the future success of our business.  We want all of our trainees to embrace a growth mindset of learning every day, which is why we have created a rich curriculum and learning community to help trainees build their skills and fulfil their potential.  This ranges from an immersive 5-day induction experience, formal training courses, leadership knowledge bites, learning journals, online courses and networking events – all aligned to our life-long learning strategy and part of our overall student package.
Additional important information
In your role, you'll work flexibly across your location region – at KPMG offices, engagement sites and from home.
Please note that due to client requirements you will need to be eligible for national security vetting for roles in Bristol, Birmingham and Manchester. As a guide you will need to be a UK National in order to apply for a role in these locations or must have lived continuously in the UK for the past 5 years or more.
Case study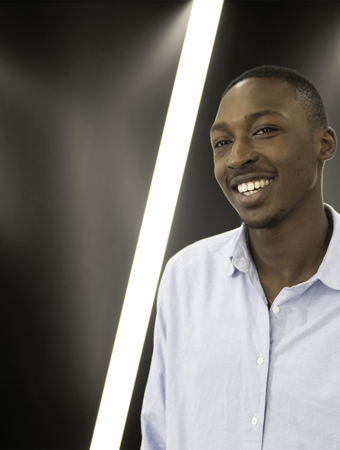 Technology & Engineering graduate programme | London
Ayomikun
I felt that KPMG would be a good match for my ambitions and of course, it's a Big Four company. So it was a no-brainer for me during the application process. KPMG was where I really wanted to be. 
Now I'm here, I enjoy the access to global clients. I like the culture here too. You get to work with ambitious people who want to be part of the next generation of ideas and strategies. 
I'm part of the Financial Services Modelling team. When I first joined, the focus was on training. It was incredibly thorough. We had financial modelling workshops run by some of our analysts, for example. We learnt VBA and Python – coding languages that are invaluable in our field. And data visualisation, which is obviously really big right now. It enables us to extract data and make it visually presentable for a client.
Read Ayomikun's story
View other Technology & Engineering programmes