Home

>

Deal Advisory Empowered
We help our clients to buy, sell, fund, fix and partner with confidence, taking them from an initial idea right through to delivery. It's all about blending our deep sector expertise with our execution skills and working with teams from the wider firm to help each client make the right decisions. It's about aligning the work we do to where our clients need us most.
As a graduate, you can expect real variety here in Deal Advisory. As we're involved in the whole deal cycle, it isn't just about simply handling transactions. You'll be undertaking client-facing work, providing advice and adding value at every stage – including on some very high-profile deals. In a world of increasing complexity, you'll be playing an active role in creating opportunity.
It could be that you're advising a company on a merger, or how to see a new acquisition through successfully. It's a fast-paced environment and you'll come across plenty of new challenges. But you'll also have the support that comes from being part of a collaborative environment where fresh perspectives are valued and questions are welcomed.
Put simply, we'll make sure you have the responsibility you need to grow quickly along with the training you need to feel confident from the start. You can also learn for a lifetime with the backing of Our KPMG. We'll support you to achieve a professional qualification and you can choose the learning style that best suits you – you could front-load your exams or spread them out across the programme. Either way, you'll be an important part of the team from the start, with real scope to play your own part in shaping our future.
Joining either Corporate Finance (Valuations and Infrastructure Advisory Group) or Transaction Services (Financial Advisory and Integration & Separation), you will have the opportunity to enhance your commercial understanding and broaden your knowledge and networks over the 3 year programme. Build relationships with colleagues and create opportunities for yourself and others. 
We offer 2 different training paths for our Deal Advisory Graduate Programmes – Empowered or Intensive. Both programmes take 3 years to complete; they just offer different routes to achieving success. Our Empowered Programme offers you the chance to work and study near your KPMG office and follow a blend of work experience and study (classroom and online learning) towards ACA or CA (Scotland) qualification. Some travel will be required for client work and exams will be spread out over the 3 year programme.
We're reimagining how we work at KPMG. Our firm is creating a tech-driven business to empower and equip our people to be outstanding in delivery – through inspiring workspaces, innovative ways to collaborate and hybrid ways of working. In your role, you'll work flexibly across your location region – at KPMG offices, engagement sites and from home.
Our Class of 2022 Graduate Programmes are now closed for applications. Class of 2023 Graduate Programmes will be opening for applications in the autumn. Keep an eye on this website for updates or follow us on LinkedIn, Instagram, Facebook or Twitter.
Programme overview
Capability: Deal Advisory
Programme length: 3 years
Qualifications: ACA or CA (Scotland)
Entry requirements
As a general rule, you'll be expected to meet the following requirements (*or equivalents)
Minimum grade 6 GCSE* Maths
Minimum grade 6 GCSE* English Language
Minimum of 128 UCAS points* under the 2017 tariff point system at A Level
Minimum 2:1 degree in any discipline
Please note, we only consider a candidate's 'top' 3 A Level grades and do not accept General Studies.
At KPMG, we look at more than just your academic results. We will review your application, together with your performance in our assessments, to ensure that you have the best opportunity to demonstrate your potential. We will be considering your strengths and achievements against KPMG's capabilities alongside a number of other metrics, including technical background and/or experience, to ensure that you have the skills to succeed at KPMG.
Key skills
Throughout the recruitment process we will be looking to learn more about your strengths.
To be successful on this programme, you will be required to demonstrate the strengths that we look for in our graduates at KPMG.
Learn more about what we look for and how to apply here.
Training and development
The training and development of our people is critical to the future success of our business. We want all of our trainees to embrace a growth mindset of learning every day, which is why we have created a rich curriculum and learning community to help trainees build their skills and fulfil their potential. This ranges from an immersive 5-day induction experience, formal training courses, leadership knowledge bites, learning journals, online courses and networking events – all aligned to our life-long learning strategy and part of our overall student package.
In addition, in Deal Advisory we currently offer either the ACA or CA depending on office location. For those joining an office in Scotland we offer the ICAS (CA). For other offices we offer different ACA routes that you will be able to select upon applying.
The Empowered Programme is KPMG's blended ACA product. Where the onus is on you to take ownership of your studies and help shape your learning. The programme uses innovative technology and is delivered via a blend of Online Classroom Live and Recorded courses plus in-centre classroom courses. This blended approach enables you to study and learn the content at a pace suited to your learning style, but ensures all are at the right technical level prior to stepping into revision elements so you can focus on your exam technique before the exam. The structure of the programme spreads the ACA examinations over the lifetime of the three year training contract so that you are able to build up your technical knowledge, and can gradually apply what you are learning in training to your workplace experience. Regardless of the ACA programme route you choose both have wrap around support which consists of dedicated professional coaches, online portal content and live and recorded additional study sessions, which means there is a form of support for your every need.
Additional important information
In your role, you'll work flexibly across your location region – at KPMG offices, engagement sites and from home.
Case study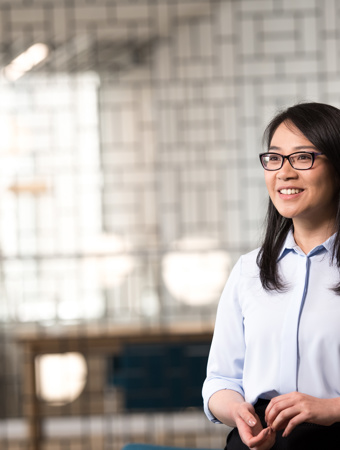 Deal Advisory graduate programme | Aberdeen
Monica
When I was applying for graduate jobs, I wanted clear career progression, a range of opportunities and prestige - KPMG stood out. At careers fairs they were always friendly. The culture seemed relaxed. Plus, the application system was really quick and straightforward.
I joined as a Graduate Analyst and, honestly, there is no 'ordinary' day for me. Not knowing exactly what I'll be doing every day means I come in every day feeling really motivated.
A couple of months ago I was given the opportunity to work on a project with a Partner. It felt like a lot of pressure at first, but it went really smoothly and there was a lot of support. I never imagined I'd be given that level of responsibility so early. But senior people aren't intimidating here. Everybody feels like they're on the same side.
Read Monica's story
View other Deal Advisory programmes