Audit Apprenticeship Programme
Build skills, confidence and an exceptional future too
Search and apply
Home

>

Audit Apprenticeship
Why an Audit Apprenticeship at KPMG?
The largest of our UK practices, Audit is all about examining organisations, and ensuring their published annual accounts are a 'true and fair' reflection of their financial performance.
As a member of our Audit team, you'll focus on delivering high-quality results. You'll use new technologies and tools such as artificial intelligence and predictive analytics, to provide insights and data to produce quality audit outcomes. You'll also have the chance to gain a deep understanding of a variety of businesses across different sectors - from the biggest multinationals through to innovative start-ups.
As an apprentice, you'll gain a breadth of expertise and experience in Audit. You'll be equipped with valuable technical skills, broad commercial understanding and in-depth knowledge of different industry sectors. Apprentices joining the Audit Programme will have the opportunity to work in a specific business area whilst studying towards a valuable professional qualification. 
Years 1 and 2
Once you join the programme, you will have regular conversations about your career. Your foundation year will help you transition into life at KPMG, and develop your professional skills and knowledge. You will complete the AAT Level 3 Advanced Certificate in Bookkeeping and the AAT Level 4 Professional Diploma in Accounting. 
Years 3, 4 and 5
You'll continue your professional development through a range of learning opportunities and build your technical skills through Audit engagements. You'll progress in terms of your studies and work towards your Level 7 ACA or CA qualification and apprenticeship.
Post qualification your personal and professional development will continue via our 'core+' training options, allowing you to build your own stretching and varied career within Audit.
Programme overview
Capability: Audit
Programme length: 5 years
Qualifications: You will work towards Level 7 ACA or CA qualification
Entry requirements
Standard entry requirements - UK
Minimum 5 GCSEs Grades A*- C or 4 - 9 (inc. Maths and English Language)
Minimum of 104 UCAS points* under the 2017 tariff point system (e.g. BCC at A Level or equivalent qualifications)
Standard entry requirements - Scotland
Minimum of 5 National 5 qualifications at Grades 1-3 (inc. Maths and English, or equivalent)
Minimum of 104 new UCAS tariff points at Higher/Advanced Higher Level
We only consider a candidate's top 3 A-Level grades, and do not accept General Studies.
Key skills
Able to work collaboratively and can build positive, constructive business relationships
Take accountability for delivering high quality, accurate work
Self-motivated and can organise own workload to ensure effective delivery of engagements and projects
Strives to continually improve
Curious about businesses and enjoys working with data 
Forward-thinking and keen to learn and understand regulation
Able to follow clear process in a regulated environment
Training and development
When you join us, you'll undertake an induction programme and have regular training sessions to develop your professional skills e.g. presentation skills, resilience, project management and team working.
In years 1 and 2 you will complete the AAT Level 3 Advanced Certificate in Bookkeeping and the AAT Level 4 Professional Diploma in Accounting.
In addition to your role responsibilities, in years 3, 4 and 5 we will support you through Accounting and Taxation apprenticeships at Level 4 and Level 7 with the Institute of Chartered Accountants in England and Wales (ACA) or the Institute of Chartered Accountants of Scotland (CA).
KPMG is dedicated to helping ensure you have the best chance of passing your exams, and therefore have a dedicated Professional Qualification Training and Accreditation team who supports each KPMG apprentice to fulfil their potential. 
Post qualification, your personal and professional development will continue via our 'core+' training options, allowing you to build your own challenging and varied career within audit.
Through 'The Academy', you'll have access to communities who will support and develop you to help build your skills and career.
Additional important information
Please note, if you have started or obtained a degree (or equivalent) in Accountancy or similar field to the professional qualifications provided on the programme, please contact the Student Recruitment team to check your eligibility.
Meet Cajsa
Meet Cajsa
Meet our Audit apprentice, Cajsa, who's specialising in National Markets Audit. Cajsa chose to do an apprenticeship because she wanted to work and develop her portfolio. She thought that the work life balance of being able to study and work at the same time was a great way to develop her skills.
Case study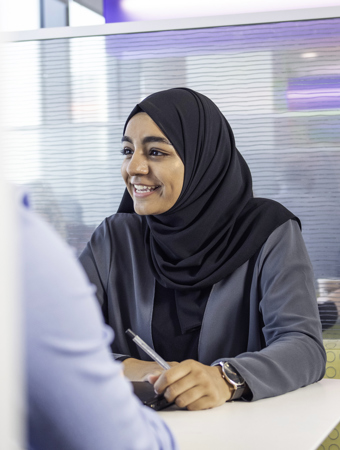 Audit Apprenticeship Programme | London
Hafsah
Hafsah was the only student in her Sixth Form to apply to do an apprenticeship. She chose a path which would enable her to learn on the job and where she knew she'd get the support she needed.
"I didn't know what to expect but everything at KPMG has exceeded my expectations. I've been given so much responsibility, which has really helped me to mature. There's so much support and opportunity. I was given a buddy when I started to show me the ropes, and I've been on two audit foundation training sessions already since I started under a year ago.
KPMG stood out from the crowd for me, being one of the Big Four and because I could get work experience straight away. That's invaluable, it really sets you apart."
Read Hafsah's story
View other apprentice programmes
KPMG360°
Programme Length:
6 years
Qualifications:
Dependent on the path you choose, but could include; ACA, CTA or CIMA
View programme
KPMG360° Business Services
Programme Length:
2 years
Qualifications:
Level Three Business Administration Apprenticeship
View programme