Home

>

Audit Apprenticeship
Why an Audit apprenticeship?
The largest of our UK practices, Audit is about examining organisations and ensuring their published annual accounts are a 'true and fair' reflection of their financial performance.
In Audit, we undertake work that affects investment decisions, inspires confidence in public sector expenditure and supports economic growth. Some of the world's biggest companies rely on us to provide independent insight, challenge and high-quality audit expertise. Today, more than ever in disruptive times, audit is a function needed by society and in the future, to support growth.
We deliver robust outcomes by working to the highest standards. As part of that, we continue to invest heavily in tech-enabled solutions, which not only allow us to offer deeper insights and higher quality audits, but also a better user experience for our auditors.
As an Audit apprentice, you'll focus on delivering high-quality audits using an investigative approach. You'll learn to use new technologies and tools such as artificial intelligence and predictive analytics to analyse data and produce quality audit outcomes – all whilst studying towards a valuable professional qualification. You'll gain a breadth of experience as well as become equipped with valuable technical skills, broad commercial understanding and in-depth knowledge of different industry sectors – from the biggest multinationals through to innovative start-ups.
You'll have the resources and support you need to learn to handle each audit engagement with confidence. You'll work as part of a team and may spend time on site at the companies you're auditing, in virtual or hybrid forms of audit delivery. From the start, you'll be working on complex projects alongside some of the brightest minds in business and benefit from learning every day. 
It's challenging, yet rewarding work. There's also a real sense of community across our Audit team – we're collaborative and value the different perspectives and ideas that contribute to our shared goal of delivering quality work.
We're re-imagining how we work at KPMG. Our firm is creating a tech-driven business to empower and equip our people to be outstanding in delivery – through inspiring workspaces, innovative ways to collaborate and hybrid ways of working. In your role, you'll work flexibly across your location region – at KPMG offices, engagement sites and from home. Therefore, some travel will be required for work and you can expect a greater workload at the busiest times of the year.
Programme overview
Capability: Audit
Programme length: 5 Years
Qualifications: You will work towards the AAT Level 3 and 4 plus the Level 7 ACA or CA qualification
Entry requirements
Standard entry requirements – UK
Minimum 5 GCSEs Grades A* – C or 4 – 9 (inc. Maths at minimum B or Level 5 and English Language)

Minimum of 112 UCAS points under the 2017 tariff point system (e.g. BBC at A Level or equivalent qualifications)
Standard entry requirements – Scotland
Minimum of 5 National 5 qualifications at Grades 1 – 3 (inc. Maths Grade 2 and English, or equivalent)
Minimum of 112 UCAS tariff points at Higher/Advanced Higher Level
We only consider a candidate's top 3 A-Level grades or equivalent (such as BTECs), and do not accept General Studies.
Key skills
Able to work collaboratively and can build positive, constructive business relationships
Take accountability for delivering high quality, accurate work
Self-motivated and can organise own workload to ensure effective delivery of engagements and projects
Strives to continually improve
Curious about how businesses operate, with the ability to critically evaluate and interpret different data and information sources
Forward-thinking and keen to learn and understand regulation
Able to demonstrate resilience when overcoming challenges and during busy times
Training and development
The training and development of our people is critical to the future success of our business. We want all of our Apprentices to embrace a growth mindset of learning every day, which is why we have created a rich curriculum and learning community to help trainees build their skills and fulfil their potential. This ranges from an immersive 5-day induction experience, formal training courses, leadership knowledge bites, learning journals, online courses and networking events – all aligned to our life-long learning strategy and part of our overall student package.
In addition as part of your KPMG Audit Apprenticeship you will complete the AAT Level 3 and 4 plus the Level 7 ACA/CA Professional Qualification.
The KPMG Audit Apprenticeship uses innovative technology and is delivered via a blend of Online Classroom Live and Recorded courses plus in-centre classroom courses. This blended approach enables you to study and learn the content at a pace suited to your learning style, but ensures all are at the right technical level at every stage of the qualification and apprenticeship. The structure of the programme spreads the AAT and ACA/CA examinations over the lifetime of the five year training agreement so that you are able to build up your technical knowledge, and can continuously apply what you are learning in training to your workplace experience through your apprenticeship skills and behaviours and off-the-job (OTJ) training. You will have wrap around support which consists of dedicated professional coaches, online portal content and live and recorded additional study sessions, which means there is a form of support for your every need.
Additional important information
Whilst you will apply to a specific office location, you will likely be required to work flexibly across the region, at KPMG offices, engagement sites and with varying levels of home working.
Please note, if you have started or obtained a degree (or equivalent) in Accountancy or similar field to the professional qualifications provided on the programme, please contact the Student Recruitment team to check your eligibility before making an application.
Case study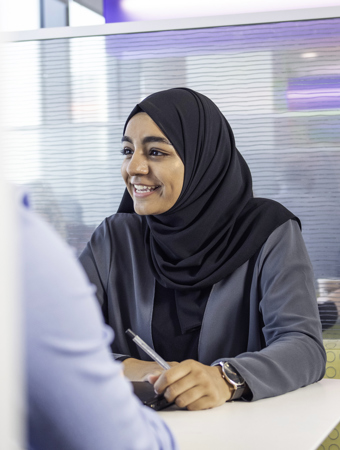 Audit apprentice | London
Hafsah
KPMG stood out from the crowd for me, being one of the Big Four and because I could get work experience straight away. That's invaluable, it really sets you apart.
Read Hafsah's story