Home

>

KPMG360° Consulting Apprenticeship
Why a KPMG360° Consulting apprenticeship?
In an ever-changing, increasingly complex world, we work shoulder-to-shoulder with clients to help them overcome the challenges they're facing today, as well as those they might face tomorrow.
Our focus is on adding value, right from day one, across a breadth of areas such as Forensic, Risk & Regulatory and Operational Transformation through to Cyber and Technology. We do that by immersing ourselves in our clients' organisations and applying fresh thinking to deliver the best possible outcomes.
In Consulting, we work across diverse industries and sectors, offering advice on how companies can grow with confidence, avoid unnecessary risk or deal with the unexpected. Consulting here is built on collaboration where we bring together broad specialisms and deep expertise to give our clients "Connected Consulting". The pace of change in technology underpins all of this. It is disrupting and transforming organisations like never before, so we always think about how we can apply the most innovative, tech-enabled and data-led solutions to give our clients real value and competitive edge.
We love meeting talented people full of ideas, ambition and passion. People like you, in fact. That's why we've created our innovative KPMG360° Consulting apprenticeship with you firmly in mind.
Our KPMG360° Consulting apprenticeship gives you the chance to learn from some of the brightest people in the business world, who want to help you develop and reach your full potential.
You'll be setting off on a journey of discovery that's as exciting as it is challenging. It's up to you where you go and how far you travel. The apprenticeship consists of three levels – Foundation, Technician and Professional. At each step of your journey, you'll develop your professional skills and broaden your knowledge in a supportive and collaborative work environment.
Foundation Level (Year 1)
Once you join the programme, you can expect a work placement in one of our Consulting teams. The exact team you are in will vary between offices, determined by the availability of roles within each region. You'll also complete the AAT Level Three Qualification.
Technician Level (Years 2 and 3)
You will continue to broaden your experience of the different business areas, gaining technical knowledge, alongside your study towards the AAT Level Four qualification.
Professional Level (Years 4, 5 and 6)
At this point, you'll work with the business to decide which area of Consulting you'll specialise in, and your associated learning pathway will reflect this. Where relevant, you will study towards further professional qualifications which could include ACA, CIMA or CIPD.
Please note that the availability of business placements varies from office to office, depending on the roles available in each location and the availability of work across the teams. 
Programme overview
Capability: Consulting
Programme length: 6 years
Qualifications: AAT Level 3 and 4. Further qualifications determined at specialisation stage
Entry requirements
Standard entry requirements - UK
Minimum 5 GCSEs at A* - C or 4 - 9 (inc. English Language and Maths)
Minimum of 104 UCAS points under the 2017 UCAS tariff points system e.g. BCC at A-Level or equivalent qualifications, not inc. General Studies
Standard entry requirements - Scotland
Minimum 5 Standard Grades at Grades 1 – 3 which must inc. Maths and English (or equivalent Intermediate/National 5 qualification)
Minimum of 104 UCAS points under the 2017 UCAS tariff points system at Higher/Advanced Higher Level e.g. BBBB
We only consider a candidate's top 3 A-Level grades, and do not accept General Studies.
Key skills
Able to work collaboratively and can build positive, constructive business relationships
Take accountability for delivering high quality, accurate work
Self-motivated and can organise own workload to ensure effective delivery of projects
Strives to continually improve
Forward-thinking and keen to learn 
Curious about how businesses operate, with the ability to critically evaluate and interpret different data and information sources
Able to demonstrate resilience when overcoming challenges and during busy times
Training and development
When you join us, you can expect to carry out work and studies that are both challenging and rewarding. You'll undertake an induction programme and have regular training sessions to develop your professional skills e.g. presentation skills, resilience, project management and team working.
The onus is on you to take ownership of your studies and help shape your learning. The programme uses a specialist Tuition provider which has innovative technology meaning the programme can be delivered via a blend of Online Classroom Live, recorded courses plus in-centre classroom courses where appropriate. This blended approach enables you to study and learn the content at a pace suited to your learning style but ensures all are at the right technical level prior to stepping into any exam.
The structure of the programme spreads the examinations over the 6 years of your training contract so that you can build your technical knowledge and can gradually apply what you are learning in your training to your workplace experience. In years 1 to 3 you will complete the AAT Level 3 and the AAT Level 4.
In addition to your role responsibilities, in years 3, 4, 5 and 6 depending on the specialisation you choose to take in Consulting, we may support you in further qualifications.
KPMG is dedicated to helping ensure you have the best chance of passing your exams, and therefore have a Professional Qualification Training and Accreditation team, plus Student Programme and Apprenticeship teams who support KPMG apprentices via online portal content and live and recorded additional study sessions - which means there is a form of support for your every need.
Post qualification, your personal and professional development will continue via our 'core+' training options, allowing you to build your own challenging and varied career within Consulting.
Additional important information
Whilst you will apply to a specific office location, you will likely be required to work flexibly across the region, at KPMG offices, engagement sites and with varying levels of home working.
Please note, if you have started or obtained a degree (or equivalent) in a similar field to the professional qualifications provided on the programme, please contact the Student Recruitment team to check your eligibility before making an application.
Case study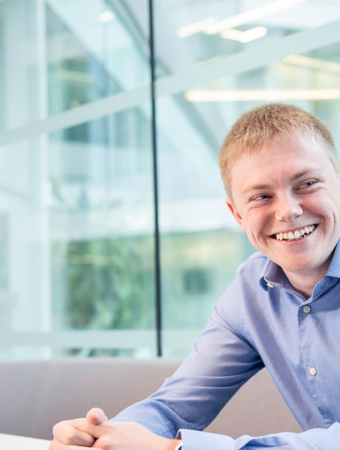 KPMG360⁰ | Apprentices
David
There's a great culture here. The apprentices really support each other – through all the exams, and all the career milestones. I've made some great friends.
Read David's story