Accounting Advisory Services (AAS) provides a broad range of accounting and structuring advice to its engagements relating to major business transactions or transformations. Projects focus on the application of technical accounting – in particular accounting policy conversions and GAAP analysis, preparation of financial statements or carve out accounts, merger and acquisition activity, implementation support for new accounting standards, group restructurings and training. As a member of the team you will have the opportunity to work with cross-functional teams including Transaction Services, Corporate Finance, Audit and Tax.
Our AAS Graduate Programme is designed to help you gain and refine business and accounting skills, as well as provide opportunities to deliver insight, challenge and high quality on audit engagements and on various aspects of financial functions. As a graduate, you'll gain a breadth of expertise and experience in advising on accounting issues. You'll be equipped with valuable technical skills, broad commercial understanding and in-depth knowledge of different industry sectors.
Dependent upon the office you join, you may be allocated to a specific industry sector or across a variety of industries - the companies we audit vary in size, complexity and maturity. Some travel will be required for work and because audit is seasonal, you can expect a greater workload at the busiest times of the year.
Programme overview
Capability: Audit
Programme length: 3 years
Qualifications: ACA
Entry requirements
As a general rule, you'll be expected to have the following (*or equivalents)
Minimum Grade B GCSE* Maths

Minimum Grade B GCSE* English Language

Minimum of 300 UCAS* tariff points

Minimum 2:1 degree in any discipline
Please note that we only consider a candidate's top 3 A-Level grades and do not accept General Studies.
At KPMG, we look at more than just your academic results. We will review your application, together with your performance in our assessments, to ensure that you have the best opportunity to demonstrate your potential. We will be considering your strengths and achievements alongside a number of other metrics, including technical background and/or experience, to ensure that you have the skills to succeed at KPMG.
Key skills
Throughout the recruitment process we will be looking to learn more about your strengths.
To be successful on this programme, you will be required to demonstrate the strengths that we look for in our graduates at KPMG.
Learn more about what we look for and how to apply here.
Training and development
The training and development of our professionals is critical to the future success of our business, which is why our people are trained to become experts in their field and supported to study for a professional qualification.
On the AAS graduate programme you will study towards an ACA qualification. This consists of a blend of live online tuition and classroom based revision, where the onus is on trainees to take ownership of their studies and help shape their learning. The programme uses innovative technology and is delivered via Online Classroom Live and recorded courses for the taught phase, and in-centre classroom courses for the revision phase. It also has wrap around support in the format of coaches, online content and study sessions which means there is a form of support for every need.
The blended learning approach enables individuals to study and learn the technical material at a pace suited to their learning style but ensures all are at the right technical level prior to stepping onto the revision phase to enable them to focus on their exam technique. The structure of the programme spreads the ACA examinations over the 3 year programme enabling you to build up your technical knowledge and apply what you are learning in training to your work place experience, gradually.
You will be supported by KPMG's dedicated Professional Qualification Training and Accreditation team whose focus is to ensure that trainees fulfil their potential.
Additional important information
You should not underestimate how much of your first three years will be spent studying and therefore it is imperative you really think about your learning style, and be sure that you are joining a firm that takes your development as seriously as you do.
To review an example of an audited consolidated financial statement take a look at KPMG's published Annual Review.​
Case study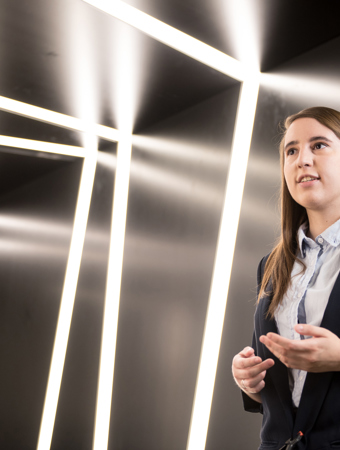 Audit graduate programme | London
Mariana
After I finished my studies, I stayed on to work at my university for a year. I learnt that what I wanted from a job was varied experience, not the same thing over and over.
Everyone here is willing to meet you and talk, at any level of the business. I was interested in a department, and it was very easy to get to know the partners working there on a personal basis. There is a culture of approachability.
I'd been in the office for four months and I'd worked with different organisations. It's everything I'd hoped for.
Read Mariana's story
View other Audit programmes