Technology underpins many of the world's most influential organisations. It enables the biggest business decisions, contributes towards maintaining trust in the economy and connects people around the UK and the globe. The opportunities that technology provides are matched only by its potential threats and risks – and this is where our Technology Audit teams come in.
The role of technology in audit is becoming more significant, as organisations continue to embrace technology at a fast pace, with bots, Cloud and Blockchain being the future norm. As a graduate on this programme, you'll work with us as one team with our Financial Audit colleagues, supporting the audit in the evaluation of IT systems that underpin an organisation's key financial processes. You'll help to assess the control risks related to the information assets, either in IT management processes, financial and operational applications, technology infrastructure or technology projects. The nature of the work you'll do is largely investigative, as we look at the processes and controls that an organisation has in place to secure the data transacted through their IT systems. You'll gain exposure to some of the largest global organisations, through to local medium/large sized businesses across one or more industry sectors, as well as to the breadth of technology used by these organisations.
Audit relies on this investigative approach, and you'll challenge and question to ensure high audit quality. The work is challenging, yet rewarding, and those who are resilient, agile and have a curious mindset will thrive, working alongside some of the brightest minds in business and the support this brings.  Whilst you don't necessarily need to be a technical guru - our current graduates have degrees in a variety of subjects – you will want to get involved in a variety of projects and have excellent attention to detail. Most importantly, you'll have an appetite to learn about technology and how we can best support audit engagements in assessing IT control environments.
On this 3-year programme, you complete the Certificate in Accounting Finance and Business (CFAB), providing you with practical skills and essential knowledge in accounting, finance, and business.  Alongside this, we'll support you to develop your technology, process, and data audit skills, and gain a flair for business which will empower you to build an exciting and varied long-term career with us in Technology Audit.
We're reimagining how we work at KPMG. Our firm is creating a tech-driven business to empower and equip our people to be outstanding in delivery – through inspiring workspaces, innovative ways to collaborate and flexible ways of working. In your role, you'll work flexibly across your location region – at KPMG offices, engagement sites and from home.  Some travel will be required for work and because audit is seasonal, you can expect a greater workload at the busiest times of the year.
Join us and you'll be part of an inclusive team that's supportive of individual wellbeing and embraces diversity, and the positive impact this has on our business, the companies we audit and the community.
Programme overview
Capability: Audit
Programme length: 3 years
Qualifications: ICAEW Certificate in Finance, Accounting and Business (CFAB)
Entry requirements
As a general rule, you'll be expected to meet the following requirements (*or equivalents)
Minimum Grade 6 GCSE* Maths
Minimum Grade 6 GCSE* English Language

Minimum of 120 UCAS points* under the 2017 tariff point system at A Level 

Minimum 2:1 degree in any discipline
Please note, we only consider a candidate's 'top' 3 A-Level grades and do not accept General Studies.
At KPMG, we look at more than just your academic results. We will review your application, together with your performance in our assessments, to ensure that you have the best opportunity to demonstrate your potential. We will be considering your strengths and achievements alongside a number of other metrics, including technical background and/or experience, to ensure that you have the skills to succeed at KPMG.
Key skills
Throughout the recruitment process we will be looking to learn more about your strengths.
To be successful on this programme, you will be required to demonstrate the strengths that we look for in our graduates at KPMG.
Learn more about what we look for and how to apply here.
Training and development
The training and development of our people is critical to the future success of our business. We want all of our trainees to embrace a growth mindset of learning every day, which is why we have created a rich curriculum and learning community to help trainees build their skills and fulfil their potential. This ranges from an immersive 5-day induction experience, formal training courses, leadership knowledge bites, learning journals, online courses and networking events – all aligned to our life-long learning strategy and part of our overall student package.
In addition, in Audit Technology (IRM), we currently offer the CFAB qualification including those that will join in our Scottish offices.
The CFAB programme is part of the Empowered ACA Programme where you complete just the initial level of the ICAEW ACA qualification.  CFAB or the Certificate in Accounting Finance and Business, gives individuals a good understanding of business, finance & accounting and is highly valued in organisations around the world. The ICAEW Certificate in Finance, Accounting & Business (ICAEW CFAB) teaches practical skills and essential knowledge in accounting, finance and business. The fundamental knowledge blocks of a business.  It is delivered in line with the Empowered product meaning it is also a blended delivery model. Where the onus is on you to take ownership of your studies and help shape your learning. The programme uses innovative technology and is delivered via a blend of Online Classroom Live and Recorded courses plus in-centre classroom courses. This blended approach enables you to study and learn the content at a pace suited to your learning style, but ensures all are at the right technical level prior to stepping into revision elements so you can focus on your exam technique before the exam.  You will also have access to wrap around support which consists of online portal content and live and recorded additional study sessions, which means there is a form of support for your every need.
Additional important information
To review an example of an audited consolidated financial statement take a look at KPMG's published Annual Review.
In your role, you'll work flexibly across your location region – at KPMG offices, engagement sites and from home.
Case study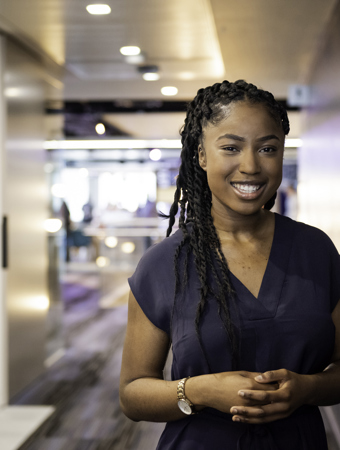 Technology Audit graduate programme | Manchester
Rukayat
"In Technology Audit, we focus on ensuring that the systems our audit entities use are in line with their policies. We also make sure our teams have all the technology tools they need to deliver quality audits. It gives you a holistic view of how a business works. You can look into different organisations more deeply too.   
The training here has been great. It's focused on different types of skills, and not just those you need on an audit programme – areas like public speaking, personal development and giving feedback."
Read Rukayat's story
View other Audit programmes