Technology underpins many of the most influential organisations in the world. It enables the biggest business decisions and connects people around the globe. The opportunities that technology provides are matched only by its potential threats and risks – and this is where we come in.
We work as one team with our Financial Audit colleagues and are responsible for bringing technology specialist skills to the audit. We support the audit in the evaluation of IT systems that underpins an organisation's key financial processes. Dependent upon the office you join, you may be allocated to a specific industry sector or across a variety of industries - the companies we audit vary in size, complexity and maturity.
Our work gives us exposure to some of the largest global organisations, through to local medium/large sized businesses across all industry sectors, as well as to the breadth of technology used by these organisations (e.g. legacy systems, complex ERPs and emerging technologies). The nature of our work is largely investigative, whereby we look at the processes and controls that an organisation has in place to secure the data transacted through their IT systems.
Our 3 year graduate programme is designed to offer audit work experience, exposure and the support you need to secure a successful career in Technology Audit (Information Risk Management). We will help you to develop your technology, process and data audit skills, commercial acumen and gain a flair for business to enable you to deliver quality outcomes and real results. As a graduate, it provides a solid grounding for understanding IT. Some travel will be required for work and because audit is seasonal, you can expect a greater workload at the busiest times of the year.
Programme overview
Capability: Audit
Programme length: 3 years
Qualifications: ICAEW Certificate in Finance, Accounting and Business (CFAB)
Entry requirements
As a general rule, you'll be expected to meet the following requirements (*or equivalents)
Minimum Grade B GCSE* Maths
Minimum Grade B GCSE* English Language
Minimum of 300 UCAS* tariff points
Minimum 2:1 degree in any discipline
Please note, we only consider a candidate's 'top' 3 A-level grades and do not accept General Studies.
At KPMG, we look at more than just your academic results. We will review your application, together with your performance in our assessments, to ensure that you have the best opportunity to demonstrate your potential. We will be considering your strengths and achievements alongside a number of other metrics, including technical background and/or experience, to ensure that you have the skills to succeed at KPMG.
Key skills
Throughout the recruitment process we will be looking to learn more about your strengths.
To be successful on this programme, you will be required to demonstrate the strengths that we look for in our graduates at KPMG.
Learn more about what we look for and how to apply here.
Training and development
As a Technology Audit Graduate, your training and development will follow the Graduate Learning Pathway. This is a well- rounded training and development plan, and comprises of technical training, personal development, and career development courses to help you make the most of your programme.
When you join the team, your initial training will be geared towards equipping you with the requisite skills and knowledge to support our teams of IT Audit specialists.
You can expect to gain an in-depth understanding of IT systems, financial processes and controls. You will study for the ICAEW Certificate in Finance, Accounting and Business (CFAB). This qualification provides knowledge and practical skills in three key areas; finance, accounting and business. There are six modules; Accounting, Law, Business and Finance, Principles of Taxation, Management Information plus Assurance. This qualification will support you to understand how a business really works and how to understand the language of finance.
We offer on-the-job coaching and access to wide-ranging online training resources that will help you to manage your time, influence stakeholders, manage finances and lead others.
During your programme you will also have the power to shape your own development by augmenting the Learning Pathway with courses from the KPMG internal training offering and a variety of online platforms as well as studying towards professional qualifications such as ITIL Foundation, COBiT Foundation, ISACA Certified Information Systems Auditor (CISA), CISA, TOGAF.
Additional important information
To review an example of an audited consolidated financial statement take a look at KPMG's published Annual Review.
Case study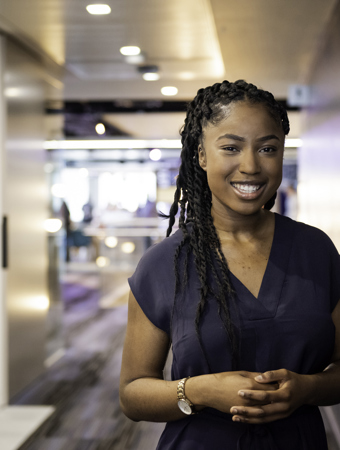 Technology Audit graduate programme | Manchester
Rukayat
"In Technology Audit, we focus on ensuring that the systems our audit entities use are in line with their policies. We also make sure our teams have all the technology tools they need to deliver quality audits. It gives you a holistic view of how a business works. You can look into different organisations more deeply too.   
The training here has been great. It's focused on different types of skills, and not just those you need on an audit programme – areas like public speaking, personal development and giving feedback."
Read Rukayat's story
View other Audit programmes