Home

>

Strategy & Value Creation
Strategy & Value Creation is a dynamic and fast-growing team, where you will work through complex and challenging issues facing clients today. You'll have the opportunity to work with people at all levels including senior management, offering strategic advice on business and operating models to our corporate, public sector and private equity clients. We offer advice in both an organic growth and transaction-related setting. It is an exciting time to join this team as we drive momentum and enhance our presence in our priority sectors. Your aspirations and initiative can make Our KPMG even better.
Our Strategy & Value Creation Programme is designed to give you a broad and varied experience from both a sector and proposition perspective, and arm you with consulting skills to help accelerate your career. You will build your commercial understanding and business acumen to deliver real value to our clients straight away.
You will gain exposure to our 3 main proposition categories:
Business Strategy: Helping Executives to develop and operationalise strategy to meet their financial ambitions and create sustainable competitive advantage.
Operating Strategy: Advising clients on a range of strategic operational issues from efficiency improvement identification through to operating model strategy design.
Deal Strategy: Advising clients on strategic investment decisions in a range of transaction settings (buy-side, sell-side, refinancing, bid/contract tenders).
We're reimagining how we work at KPMG. Our firm is creating a tech-driven business to empower and equip our people to be outstanding in delivery – through inspiring workspaces, innovative ways to collaborate and hybrid ways of working. In your role, you'll work flexibly across your location region – at KPMG offices, engagement sites and from home.
Our Class of 2022 Graduate Programmes are now closed for applications. Class of 2023 Graduate Programmes will be opening for applications in the autumn. Keep an eye on this website for updates or follow us on LinkedIn, Instagram, Facebook or Twitter.
Programme overview
Capability: Deal Advisory
Programme length: 3 years
Qualifications: Chartered Institute of Management Accountants (CIMA)
Entry requirements
As a general rule, you'll be expected to meet the following requirements (*or equivalents)
Minimum Grade 6 GCSE* Maths
Minimum Grade 6 GCSE* English Language

Minimum of 128 UCAS points* under the 2017 tariff point system at A Level

Minimum 2:1 degree in any discipline
Please note, we only consider a candidate's 'top' 3 A Level grades and do not accept General Studies.
At KPMG, we look at more than just your academic results. We will review your application, together with your performance in our assessments, to ensure that you have the best opportunity to demonstrate your potential. We will be considering your strengths and achievements alongside a number of other metrics, including technical background and/or experience, to ensure that you have the skills to succeed at KPMG.
Key skills
Throughout the recruitment process we will be looking to learn more about your strengths.
To be successful on this programme, you will be required to demonstrate the strengths that we look for in our graduates at KPMG.
Learn more about what we look for and how to apply here.
Training and development
The training and development of our people is critical to the future success of our business. We want all of our trainees to embrace a growth mindset of learning every day, which is why we have created a rich curriculum and learning community to help trainees build their skills and fulfil their potential. This ranges from an immersive 5-day induction experience, formal training courses, leadership knowledge bites, learning journals, online courses and networking events – all aligned to our life-long learning strategy and part of our overall student package.
In addition, in Deal Advisory Strategy & Value creation we currently offer the CIMA qualification through an Apprenticeship route.
The CIMA Programme uses innovative technology and is delivered via a blend of Online Classroom Live and Recorded courses in addition to in-centre classroom courses. It also has wrap-around support which consists of dedicated professional coaches, online portal content and live and recorded additional study sessions which means there is a form of support for your every need. This blended approach enables you to study and learn the content at a pace suited to your learning style, but ensures all are at the right technical level prior to stepping into revision elements so you can focus on your exam technique before the exam. The structure of the programme is delivered via an Apprenticeship route which really enables you to learn on the job and apply your knowledge to the workplace. It equally means that your learning and examinations are spread over the lifetime of the training contract so that you are able to build up your technical knowledge, and can gradually apply what you are learning in training to your workplace experience.
Additional important information
Due to the intensive nature of the programme, holiday dates are mandated during the initial 12 months of the programme to fit in with the study and exam schedule – with no exceptions.
In your role, you'll work flexibly across your location region – at KPMG offices, engagement sites and from home.
Case study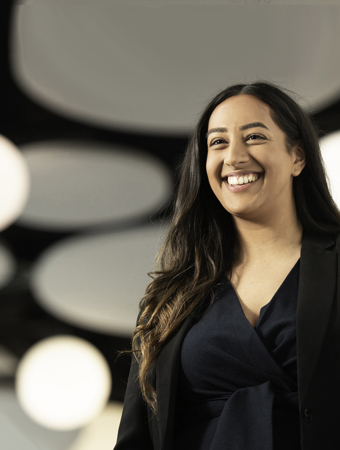 Deal Advisory graduate programme | Birmingham
Rani
Rani initially gained an insight into KPMG through our undergraduate programmes when she was an Economics student at the University of Birmingham and found she enjoyed the culture of the firm.
"In the first year of my degree, I attended the KPMG Insight Programme. I especially liked how people-centred the firm is. It was through that programme that I was offered an internship which I also really enjoyed.  That led me onto the graduate scheme.    
I like having different tasks and trying things that are completely new to me. I'm working in Transaction Services, which is focused on the early stages of a deal. A typical example of our work is when a client asks us to help them sell their company, we'll look into the accounts, do due diligence and produce a report to give to the buyers.
Our partners often ask you to research a company. That involves searching across everything from news to relevant mergers – to then share back with them. I find it really interesting.  It's great to have that kind of responsibility and partners are genuinely interested in what you think.
Read Rani's story
View other programmes in Deal Advisory