Home

>

Financial Modelling
Our Financial and Business Modelling practice helps clients utilise information to answer their business questions by integrating large volumes of data from disparate sources and applying subject matter knowledge and technical expertise to build models. We work across all sectors and support the strategic direction of the whole business or parts of a business through a variety of capabilities.
Our clients depend on models to make critical financial and business decisions. The models we build provide numerous benefits, deep insights into data, efficient automation of processes, and dynamic analysis of options and opportunities. High quality, robust modelling reduces the potential of misapplying business logic or encountering data errors, and decreases the risk that organisations will make poor decisions.
Our 3 year graduate programme is designed to offer you the exposure and support you need to secure a successful career in Financial and Business Modelling. You will develop core business consulting and technology skills, whilst building models using a broad range of tools such as; Excel, VBA, SQL, Python, Qlikview, Tableau, and Power BI.
People who excel within Financial and Business Modelling are passionate about continually adapting their skills and knowledge to find solutions that meet our clients' needs and have a love of working with numbers. We ask for a keen interest in technology and business issues and whilst you don't necessarily need to be a technical guru, we are looking for individuals who have a keen interest in Financial and Business Modelling and typically come from STEM, Economics, Accounting or Finance backgrounds.
Programme overview
Capability: Technology & Engineering
Programme length: 3 years
Qualifications: CIMA or CFA depending on the team you join
Entry requirements
As a general rule, you'll be expected to meet the following requirements (*or equivalents)
Minimum Grade B GCSE* Maths
Minimum Grade B GCSE* English Language
Minimum of 300 UCAS* tariff points
Minimum 2:1 degree in in a STEM, Economics or Finance specific subject
Please note, we only consider a candidate's 'top' 3 A-Level grades and do not accept General Studies.
At KPMG, we look at more than just your academic results. We will review your application, together with your performance in our assessments, to ensure that you have the best opportunity to demonstrate your potential. We will be considering your strengths and achievements alongside a number of other metrics, including technical background and/or experience, to ensure that you have the skills to succeed at KPMG.
Key skills
Throughout the recruitment process we will be looking to learn more about your strengths.
To be successful on this programme, you will be required to demonstrate the strengths that we look for in our graduates at KPMG.
Learn more about what we look for and how to apply here.
Training and development
Training will continue throughout your career at KPMG, however during your first couple of years, we focus on equipping you with further technical and industry knowledge. The exact shape of your training will be influenced by the type of work you're engaged in, but will involve learning market-leading technologies and industries, and formal training on a number of delivery and consulting approaches. We'll also assign you to projects that put your formal training to practical use.
Plus we offer on-the-job coaching, the chance to study for relevant industry qualifications and access to wide-ranging training that will help you to manage your time, influence stakeholders, manage finances and lead others.
You may also have the opportunity to study for CIMA or CFA, depending on the team you join. Both are industry accredited qualifications focusing on finance and accounting concepts that will help you through your graduate programme and into your future career.
Additional important information
Candidates applying for a role in Bristol, due to the sensitive nature of the projects, must be able and willing to undertake national security vetting.
Case study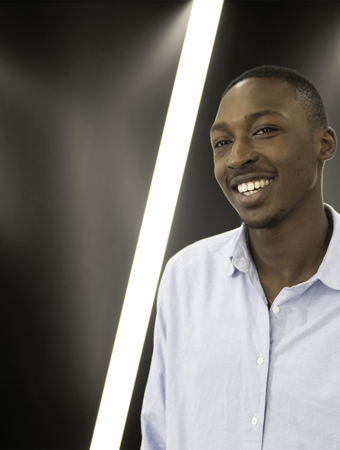 Financial Modelling graduate programme | London
Ayomikun
"I'm part of the Financial Services Modelling team. When I first joined, the focus was on training. It was incredibly thorough. We had financial modelling workshops run by some of our analysts, for example. We learnt VBA and Python – coding languages that are invaluable in our field. And data visualisation, which is obviously really big right now. It enables us to extract data and make it visually presentable for a client.
There's always something new to learn here. It means you can constantly push yourself. And what's great about Technology & Engineering at KPMG is that you're surrounded by other people who want to push themselves too. People come from a range of different backgrounds and everybody is very motivated."
Read Ayomikun's story
View other Technology & Engineering programmes