Home

>

Financial Modelling
As a graduate in our Financial Modelling practice, you'll work directly with clients from day one, applying financial knowledge and technical expertise to deliver a range of services across all sectors. You'll benefit from a number of training modules designed to develop your productivity and technical skills. As you progress, your Performance Manager will work with you to identify your goals and tailor learning and development opportunities. We provide plenty of support and a blend of opportunities to help you achieve your potential.
Working with clients, you can expect to:
Build bespoke financial and operational models to help our clients make informed decisions, improve business operations, and forecast effectively for the future. These models incorporate complex financial, statistical and mathematical calculations to manipulate data, support automation and to enhance reporting.
Develop high-impact visual reports and dashboards to help clients monitor KPIs and analyse trends from large volumes of data using a mix of different platforms.
Review and validate clients' existing models to provide confidence in their use, typically where they are being used to support high-profile transactions.
Our 3-year graduate programme will give you the opportunity to work on and build relationships with different clients, whilst providing you with the training to develop the financial, consulting and technology skills required across a broad range of tools such as; Excel, VBA, SQL, Python, Qlikview, Tableau, and Power BI. You'll be supported by your colleagues to feed your curiosity, working with some of the best in emerging practices and technologies.
People who thrive on the Financial Modelling programme are passionate about broadening their skills and knowledge to find solutions for our clients and have a love of working with numbers. We also seek those with a keen interest in developing both financial acumen and building their technology skills throughout the programme. We'd expect you to have a degree or postgraduate degree in STEM, Finance or Economics. For those applying to our Bristol office, due to the nature of the work, you will need to hold or be able to obtain UK security clearance.
Our firm's hybrid working model balances the flexibility of working from home with the importance of collaborating and learning in offices or at client sites. We trust our people to be where our clients need them to be, with our client-facing colleagues working together in person as often as needed. You'll be empowered by the technology that supports us to work flexibly and our collaborative offices spaces, building friendships and shared experiences, innovating and learning together.
Programme overview
Capability: Technology & Engineering
Programme length: 3 years
Qualifications: CIMA or CFA
Entry requirements
At KPMG, everyone brings a unique perspective, and we want to ensure that you have the best opportunity to demonstrate your potential. We've designed our application process to assess everyone's potential in the context of their educational and personal circumstances to ensure that you have the skills to succeed at KPMG.

You'll generally be expected to demonstrate the following (*or equivalents). However, if you do not meet all the below, and are a few grades or points short, then we would still encourage you to apply, as you will be given the option to provide additional information that enables us to assess your application and potential in the context of your socio-economic background and/or any extenuating circumstances. You can find out more here.
Grade 5 or B GCSE* Maths
Grade 5 or B GCSE* English Language
120 UCAS points* from your 'top' 3 grades, excluding General Studies under the 2017 tariff point system at A Level (300 UCAS points pre-2017)
2:1 undergraduate degree in STEM, Finance or Economics, or 2:1 undergraduate degree in a non-STEM subject with a postgraduate degree in STEM, Finance or Economics.
Key skills
Throughout the recruitment process we will be looking to learn more about your strengths.
To be successful on this programme, you will be required to demonstrate the strengths that we look for in our graduates at KPMG.
Learn more about what we look for and how to apply here.
Training and development
The training and development of our people is critical to the future success of our business. We want to empower you to grow in your own way, to feed your curiosity and embrace a growth mindset in an environment where learning is continuous. Therefore, we have created a rich curriculum and learning community to help you build your skills and fulfil your potential. This ranges from an immersive 5-day induction experience to help you transition to the world of work, formal training courses, leadership knowledge bites, learning journals, online courses and networking events – all aligned to our 'learn for a lifetime' strategy designed to help you gain an advantage for life.
In addition, in Financial Modelling we currently offer either the CIMA qualification through an apprenticeship route, or the CFA qualification – depending on the team you join. The CIMA qualification is available across all locations (including London) for our Infrastructure, Government & Healthcare (IGH) and Corporates (Corps) coverage areas; the CFA qualification is only available for the London Financial Services (FS) programme.
Both programmes use innovative technology and are delivered via a blend of Online Classroom Live and recorded courses in addition to in-centre classroom courses. It also has wrap-around support which consists of online portal content and live and recorded additional study sessions which means there is a form of support for your every need. This blended approach enables you to study and learn the content at a pace suited to your learning style but ensures all are at the right technical level prior to stepping into revision elements so you can focus on your exam technique before the exam. The structure of the CIMA programme is delivered via an apprenticeship route which really enables you to learn on the job and apply your knowledge to the workplace. It equally means that your learning and examinations are spread over the lifetime of the training contract so that you are able to build up your technical knowledge and can gradually apply what you are learning in training to your workplace experience.
Additional important information
Case study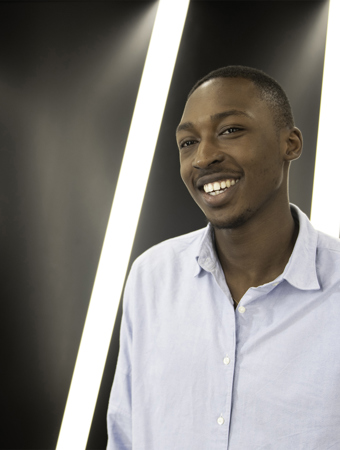 Financial Modelling graduate programme | London
Ayomikun
"I'm part of the Financial Services Modelling team. When I first joined, the focus was on training. It was incredibly thorough. We had financial modelling workshops run by some of our analysts, for example. We learnt VBA and Python – coding languages that are invaluable in our field. And data visualisation, which is obviously really big right now. It enables us to extract data and make it visually presentable for a client.
There's always something new to learn here. It means you can constantly push yourself. And what's great about Technology & Engineering at KPMG is that you're surrounded by other people who want to push themselves too. People come from a range of different backgrounds and everybody is very motivated."
Read Ayomikun's story
View other Technology & Engineering programmes
Powered Applications
Programme Length:
3 years
Qualifications:
Technology-focused learning and training
View programme
Forensic Technology
Programme Length:
3 years
Qualifications:
Technology specific accreditation, certification and/or relevant learning modules
View programme
Technology Consulting
Programme Length:
3 years
Qualifications:
Technology-focused learning and training
View programme
;