Home

>

Technology Consulting
Our Technology Consulting graduate programme, is designed to give you the skills to analyse, advise and deliver digital solutions for some of the most pressing issues facing business and society. The breadth of our work, expertise and clients means there's always the chance to learn new things. You'll join a strong support network helping you to maximise every opportunity that comes your way.
Our Technology Consulting practice is a dynamic and fast-paced place to be. You'll tackle a broad mix of challenges for our clients, working with new methods and technology tools and combining expertise from across our Risk Consulting and Technology Transformation teams to deliver tailormade solutions. This could mean helping an investment bank use Artificial Intelligence to detect and prevent fraud or exploring how a retailer could use analytics to understand their customers better. It could mean helping one of the world's most renowned brands adopt world class processes using the latest release of a major software platform or helping a Chief Digital Officer shape an organisation to build and deploy digital products quickly and effectively.
If you're keen to develop a career in technology and are interested in solving business issues in an innovative and sustainable way, you'll thrive in this passionate team of people. You'll be supported to continually develop your skills whilst working on complex and varied projects as part of your three-year programme in areas including Tech Strategy or Risk, Cloud Transformation, Cyber, Data & Analytics, Business Analysis and Testing. You'll also have the opportunity to gain technical qualifications or accreditations specifically suited to the work you will deliver.
For those that apply for this programme in our Glasgow office, you'll join our Tax Technology Analytics team. This team focuses on consulting, building and managing data and analytical solutions across our Tax and Law practice. You'll be collaborating with clients, tax professionals and other technologists.
Our firm's hybrid working model balances the flexibility of working from home with the importance of collaborating and learning in offices or at client sites. We trust our people to be where our clients need them to be, with our client-facing colleagues working together in person as often as needed. You'll be empowered by the technology that supports us to work flexibly and our collaborative offices spaces, building friendships and shared experiences, innovating and learning together.
Join us and be part of an inclusive team that's supportive of individual wellbeing and embraces diversity – and the meaningful difference this has for our people, our firm, our clients and our communities. If you're curious, resilient and agile you could thrive with us.
Programme overview
Capability: Technology & Engineering
Programme length: 3 years
Qualifications: Technology-focused learning and training
Entry requirements
At KPMG, everyone brings a unique perspective, and we want to ensure that you have the best opportunity to demonstrate your potential. We've designed our application process to assess everyone's potential and to ensure that you have the skills to succeed at KPMG.

We will be considering your strengths and achievements alongside several other metrics, including technical background and/or experience. You'll generally be expected to demonstrate the following:
2:2 undergraduate degree in any discipline.
As part of your application, you will be given the opportunity to share any extenuating circumstances that may have impacted your degree outcome. Supplying us with this information will not negatively impact your application, but it may provide a positive uplift on your academic achievements. You can also choose to opt out of sharing it.
Key skills
Throughout the recruitment process we will be looking to learn more about your strengths.
To be successful on this programme, you will be required to demonstrate the strengths that we look for in our graduates at KPMG.
Learn more about what we look for and how to apply here.
Training and development
The training and development of our people is critical to the future success of our business. We want to empower you to grow in your own way, to feed your curiosity and embrace a growth mindset in an environment where learning is continuous. Therefore, we have created a rich curriculum and learning community to help you build your skills and fulfil your potential. This ranges from an immersive 5-day induction experience to help you transition to the world of work, formal training courses, leadership knowledge bites, learning journals, online courses and networking events – all aligned to our 'learn for a lifetime' strategy designed to help you gain an advantage for life.
On this programme, you'll also have the opportunity to take part in relevant technology-focused learning and training.
Additional important information
Case study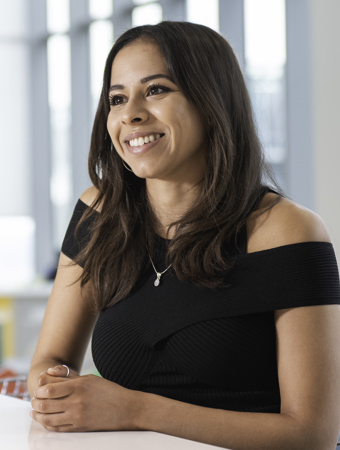 Data & Technology Consulting graduate programme | London
Hannie
"At the moment, I'm working on a data analysis project. Essentially, we're trying to attract tech talent to a UK bank that's looking to expand digitally. Right now, we're finding out what people like about their jobs, what they don't and what could be improved, and then coming up with a strategy. It's really interesting.
You definitely don't need to be worried about not coming from a tech background. As long as you can show a passion for technology and you're motivated, you'll have all the training and support you need to get up to speed."
Read Hannie's story
View other Technology & Engineering programmes
Powered Applications
Programme Length:
3 years
Qualifications:
Technology-focused learning and training
View programme
Financial Modelling
Programme Length:
3 years
Qualifications:
CIMA or CFA
View programme
Forensic Technology
Programme Length:
3 years
Qualifications:
Technology specific accreditation, certification and/or relevant learning modules
View programme
;