Home

>

Technology Consulting
If you're applying to the Technology Consulting graduate scheme, there is no doubt you'll be aware of the vast, unstoppable reach of technology. Present and potent in every industry and every household, technology and the use of data shape the way we live and work. Solving a broad mix of challenges for our clients, Technology Consulting is a dynamic and fast-paced place to be. We help create opportunity in a world of increasing complexity. 
As a graduate at KPMG, you'll learn the skills to analyse, advise and deliver digital solutions for some of our clients' most pressing business issues. We look to recruit those with existing technical skills, as well as those keen to develop a career in technology and looking to solve business issues in an innovative and sustainable manner.
We work collaboratively in teams, building relationships with colleagues who take care of each other. And, of course, with clients to help solve problems quickly. We invest in new methods, new tools and new capabilities, and combine expertise from across our Risk Consulting and Technology Transformation teams to deliver tailormade solutions to all of our clients. If you're interested in a career in Technology Consulting, then we'll invest in you.
During the Technology Consulting graduate scheme, you'll follow a structured programme working with a range of clients and technologies. Your work will typically span the technology delivery lifecycle; shaping a project from requirements definition through to technical delivery. During the programme, you'll also benefit from a number of training modules designed to develop your productivity, interpersonal and technical skills. As you progress, your Performance Manager will work with you to identify your goals and tailor any additional training you might need. KPMG will provide plenty of support and development opportunities to help you achieve your potential – primarily based on client work with the chance to gain technical qualifications specifically suited to the work you will deliver. You'll have every opportunity to make your mark.
We're reimagining how we work at KPMG. Our firm is creating a tech-driven business to empower and equip our people to be outstanding in delivery – through inspiring workspaces, innovative ways to collaborate and hybrid ways of working. In your role, you'll work flexibly across your location region – at KPMG offices, engagement sites and from home.
Programme overview
Capability: Technology & Engineering
Programme length: 3 years
Qualifications: Technology specific accreditation, certification and/or relevant learning modules
Entry requirements
As a general rule, you'll be expected to meet the following requirements (*or equivalents)
Minimum Grade 6 GCSE* Maths
Minimum Grade 6 GCSE* English Language

Minimum of 120 UCAS points* under the 2017 tariff point system at A Level or equivalent qualifications

Minimum 2:1 degree in any discipline
Please note, we only consider a candidate's 'top' 3 A-Level grades and do not accept General Studies.
At KPMG, we look at more than just your academic results. We will review your application, together with your performance in our assessments, to ensure that you have the best opportunity to demonstrate your potential. We will be considering your strengths and achievements alongside a number of other metrics, including technical background and/or experience, to ensure that you have the skills to succeed at KPMG.
Key skills
Throughout the recruitment process we will be looking to learn more about your strengths.
To be successful on this programme, you will be required to demonstrate the strengths that we look for in our graduates at KPMG.
Learn more about what we look for and how to apply here.
Training and development
The training and development of our people is critical to the future success of our business.  We want all of our trainees to embrace a growth mindset of learning every day, which is why we have created a rich curriculum and learning community to help trainees build their skills and fulfil their potential.  This ranges from an immersive 5-day induction experience, formal training courses, leadership knowledge bites, learning journals, online courses and networking events – all aligned to our life-long learning strategy and part of our overall student package.
Additional important information
In your role, you'll work flexibly across your location region – at KPMG offices, engagement sites and from home.
Case study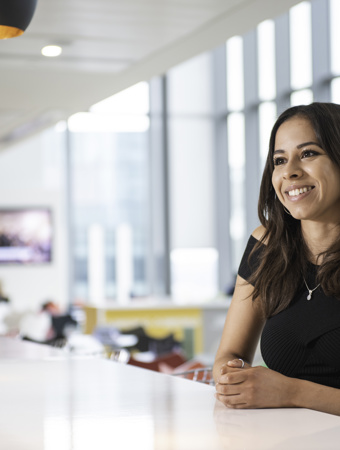 Data & Technology Consulting graduate programme | London
Hannie
"At the moment, I'm working on a data analysis project. Essentially, we're trying to attract tech talent to a UK bank that's looking to expand digitally. Right now, we're finding out what people like about their jobs, what they don't and what could be improved, and then coming up with a strategy. It's really interesting.
You definitely don't need to be worried about not coming from a tech background. As long as you can show a passion for technology and you're motivated, you'll have all the training and support you need to get up to speed."
Read Hannie's story
View other Technology & Engineering programmes