Our Forensic Graduate programme is designed to build your commercial and business awareness. You'll help clients across a variety of sectors and services, gaining a wide experience, and helping to make a meaningful difference for the businesses we serve. With the KPMG community at your side, you'll study towards the Institute of Chartered Accountants qualification (ACA) and be supported to grow in your own way.
You'll be joining a team that helps clients to protect their businesses by reducing reputational risk and commercial loss. We do this by combining accounting investigation, technology, insight, and industry skills – capabilities that you'll have the opportunity to develop on your programme. You'll work with us as we help to diffuse challenging situations through investigations and compliance, fraud risk management, corporate intelligence, anti-bribery, anti-money laundering, and dispute advisory services. There's also potential to gain broader Consulting experience, as your programme might include working with other teams in the wider Enterprise Risk space outside of the core Forensic service line, whilst still being relevant to your ACA qualification.
The Consulting Forensic Graduate programme gives you the opportunity to build skills and experience in one of our specialist areas:
Investigations and Compliance — This is the largest team within Forensic, often working with clients in sensitive and complex environments to conduct independent investigations. In the Financial Crime Regulatory space we support some of the world's largest financial institutions to prevent, detect and investigate instances of fraud, misconduct and corruption, to achieve regulatory compliance and bolster financial crime controls across the entire organisation.
Dispute Advisory Services — The Dispute Advisory Services team helps prevent and resolve commercial disputes by supporting our clients to assess damages and resolve accounting, audit and finance-related issues.
Economics — Our Economics practice delivers expert advice and analysis for corporates, government bodies and regulatory authorities helping them to make better business and public policy decisions in today's more complex and faster-paced landscape.
Infrastructure Government & Health Transport Advisory — This team provides specialist financial, commercial and strategic advice to the transport sector, both public and private sector clients, focusing on the rail and bus markets in the UK and globally.
Contract Performance & Insight — Our CP&I team provides contract performance services to help clients get the best from their existing commercial contracts. We use a mix of core consulting, forensic investigation, and technology, to deliver value for clients across a diverse range of industries including Public Sector, Infrastructure, Pharmaceuticals, Oil & Gas and Financial Services.
If you have an eye for detail, good analytical skills and enjoy problem-solving, this could be the programme for you. We'll support you to thrive and make your mark, while building a meaningful career.
Our firm's hybrid working model balances the flexibility of working from home with the importance of collaborating and learning in offices or at client sites. We trust our people to be where our clients need them to be, with our client-facing colleagues working together in person as often as needed. You'll be empowered by the technology that supports us to work flexibly and our collaborative office spaces, building friendships and shared experiences, innovating and learning together.
Programme overview
Capability: Consulting
Programme length: 3 years
Qualifications: ACA
Entry requirements
At KPMG, everyone brings a unique perspective, and we want to ensure that you have the best opportunity to demonstrate your potential. We want to discover your individual strengths and attributes to help us to know whether you'll enjoy working here and how you'll thrive. That's why we operate an open access policy and an application process that will assess both your qualifications and your qualities.
Generally, you'll be expected to demonstrate the following grades (*or equivalents), to show that you're able to successfully study for professional qualifications. If you are a few grades or points short, we would still encourage you to apply, as your application will be reviewed together with your performance in our assessments. You'll also have the opportunity to provide additional information for us to assess your application and potential in the context of your socio-economic background and/or any extenuating circumstances, which may have a positive uplift on your academic achievements through contextual recruitment. You can find out more here.
GCSE Maths Grade 5 or B*
GCSE English Language Grade 5 or B*
120 UCAS points* from your 'top' 3 A Level grades, excluding General Studies
2:1 undergraduate degree in any discipline.
Key skills
Throughout the recruitment process we will be looking to learn more about your strengths.
To be successful on this programme, you will be required to demonstrate the strengths that we look for in our graduates at KPMG.
Learn more about what we look for and how to apply here.
Training and development
The training and development of our people is critical to the future success of our business. We want to empower you to grow in your own way, to feed your curiosity and embrace a growth mindset in an environment where learning is continuous. Therefore, we have created a rich curriculum and learning community to help you build your skills and fulfil your potential. This ranges from an immersive 5-day induction experience to help you transition to the world of work, formal training courses, leadership knowledge bites, learning journals, online courses and networking events – all aligned to our 'learn for a lifetime' strategy designed to help you gain an advantage for life.
In addition, in Forensic, we offer the ACA or equivalent CA qualification. The Accelerated Programme is KPMG's ACA offering. This is a front-loaded programme which uses innovative technology and is delivered via a blend of online and in-centre classroom courses. The ACA Accelerated programme enables you to upskill quickly, so you can make your mark. For the first year of your training contract, you will focus purely on your professional qualification, by completing 12 out of 15 ACA exams. You will also have opportunities to reconnect with your home department and peer group, as well as complete internal training and extra skills sessions. The entire programme is supported by a wide range of mechanisms that will be applied by your tuition provider (BPP) and KPMG's dedicated Early Careers Development team.
If you join a Scottish office we support our equivalent CA qualification and therefore you will study towards your ICAS qualification. This newly designed programme enables you to sit the majority of the ICAS exams in your first year, provides you with innovative technology to support your learning experience and also enables you to upskill quickly. You will also have opportunities to reconnect with your home department and peer group, as well as complete internal training and extra skills sessions. The entire programme is supported by a wide range of mechanisms that will be applied by ICAS and KPMG's dedicated Early Careers Development team.
For both programmes in the remaining two years of your training contract, you will concentrate on building up a fantastic range of work experience, complete your exams and will have the technical knowledge to apply to your role in the workplace. These programmes have been structured with you in mind and truly empowers you to accelerate your learning journey at KPMG.
Additional important information
Case study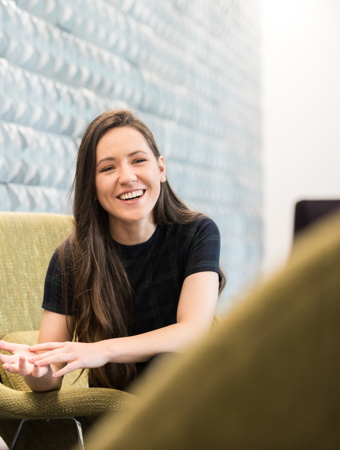 Consulting graduate programme | London
Hannah
This job actually didn't cross my mind until I read about the scheme online. It looked really varied, something that wouldn't be the same thing day in, day out.
Then KPMG came to Durham and I met some of their grads. You couldn't fail to notice how they genuinely enjoyed their jobs. They talked about the friendly environment, how they were still learning. When I compared that to other people I knew, it seemed really different, in a positive way.
Read Hannah's story
View other Consulting programmes
;