Lydia joined the KPMG Apprenticeship Programme after leaving school at the age of 18. She believed learning on the job was the best way to get ahead, and looked into programmes that could cover the costs of her study.
"I wanted to carry on training after Sixth Form, but I wanted to do something relevant and start work as soon as possible. I'd seen my older brothers finish university and struggle to get a graduate job afterwards. I wanted paid experience that would get me ahead.
I applied to other apprenticeship programmes but KPMG's programme was the one I really wanted. I was drawn to the opportunities to take secondments abroad, and by the fact that KPMG is part of a global network of firms. KPMG is so well-established, I knew also I'd be supported throughout my training.
"Any expectations I had for my apprenticeship here have been exceeded. The amount of responsibility and trust I'm given and the level of work that I've been able to complete is beyond what I hoped for."
Three years later, I'm loving every minute. I've found the perfect department for me in the Rewards Tax team. This was meant to only be a placement – but it's turned into my full-time job. I liked it so much that I chose to specialise early, and I've been here for three years (and counting).
I get so much responsibility in my team. KPMG helps me to work around my priorities – such as my exams and where I want my career to progress. If I want to change teams or projects, I am supported to do so. I'm treated like any other colleague – not an apprentice – and the level of work I've completed has really exceeded what I expected.
There's so much variety in the Rewards Tax department. Every day is different. One morning I'll be in a client meeting, talking through a plan for the most tax-efficient way to reward their employees. The next, I'll be learning about international tax and writing a report for an overseas office. At the moment, I'm working on a huge project involving client offices in over 20 countries. I've been working on it since I started and I've acquired so much knowledge of international tax law.
Beyond the day-to-day, I also go to some school careers fairs to talk about KPMG's apprenticeship programmes. I enjoy speaking about this as I'm so passionate about it. I want more young people to know about the options they have to get ahead.
One other great thing is the culture here. Most people say this, but I genuinely believe we have the best people. Everyone is really supportive, friendly and professional.
I would recommend the Rewards Tax department because its numbers and advisory based. So, although you're a tax advisor, you're a consultant as well – it's the best of both worlds.
I would definitely recommend an apprenticeship with KPMG. If you want to be supported towards your qualification in a well-known global firm, then you should definitely jump at the chance to learn, qualify and gain real-life experience here."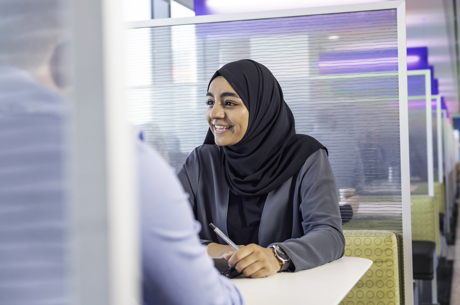 Hafsah
"KPMG stood out from the crowd for me, being one of the Big Four and because I could get work experience straight away. That's invaluable, it really sets you apart."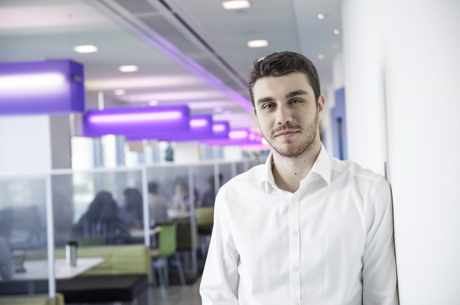 Mario
"There's a really open-minded approach here. It's not about your background or experience."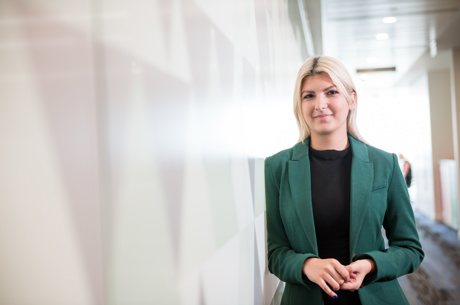 Kristina
"There are systems to ensure you're supported. You have regular catch-ups with managers and they take a real interest in your development."