Mario studied for a BTEC in Information Technology before leaving college to become a Technician, working on repairing IT products. After a year, he was looking for a bigger challenge and was impressed by KPMG's track record in developing young talent through apprenticeships.
"When I came to KPMG for an interview, they really opened my eyes to the scale and level of the tech side of their business. I had no idea that KPMG worked in alliance with companies like Google, Microsoft and Amazon - or that the technology consulting part of the firm was growing so fast.
I was also really impressed by the track record KPMG has in bringing young talent into the business and putting real resource behind making sure we succeed. KPMG has been running apprentice programmes for a number of years now, and it really shows.
Everyone at KPMG gives you a warm welcome when you join and you get to meet with other apprentices during your first week. This induction provides you with a great introduction to the business and you're also provided with a performance manager to mentor you – it all just shows how seriously they take our development.
"There's a really open-minded approach here. It's not about your background or experience. It's about your interest in technology, and your curiosity to know more."
I get the chance to work three days a week on real technology problems, and then spend two days a week studying towards my Digital and Technology Solutions degree at Queen Mary University of London. It's the perfect combination.
In my role, I work closely with a group of Software Engineers – and often as many as five or six other teams across KPMG - to create the IT infrastructure required for key projects. As part of the Banking Technology team, one of the most interesting projects I've worked on is an initiative to help banks fight financial crime.
Through our apprenticeship, we also have the opportunity to manage projects ourselves as a group. Recently, we've been designing and programming a resource management application. It's a database that includes the skills and experience of all of KPMG's engineers – and also keeps track of all of the work they're involved in.
I've learnt so much – from new programming languages such as Python, to a huge amount about the world of finance and technology in banking. Next year, I'm looking forward to learning more about Solutions Architecture.
If you're really interested in technology, you can be sure that KPMG will invest in you and your career through this apprenticeship. There's a really open-minded approach here. It's not about your background or experience. It's about your curiosity to learn more."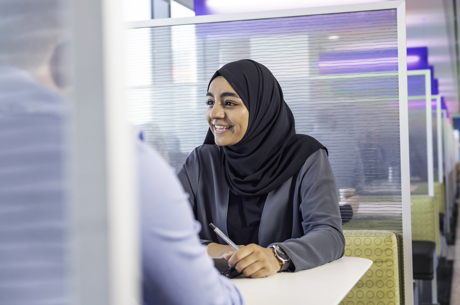 Hafsah
"KPMG stood out from the crowd for me, being one of the Big Four and because I could get work experience straight away. That's invaluable, it really sets you apart."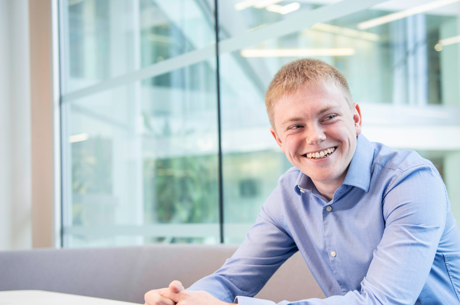 David
"There's a great culture here. The apprentices really support each other – through all the exams, and all the career milestones. I've made some great friends."
Lydia
"Any expectations I had for my apprenticeship here have been exceeded."