What if your audit insights could put you at the heart of business?
Audit graduate programmes
Why Audit at KPMG?
Audit is the largest of our UK practices. Put simply, audit is about examining organisations and ensuring their published accounts provide a 'true and fair' view of their financial position and results. The work we undertake is critical to the everyday working of society, helps build more trust in the economy and supports businesses as they grow.
We audit some of the world's biggest companies, as they rely on us to provide independent insight, challenge, and high-quality audit expertise. From the start, you'll be working on complex audit engagements, which could include big retailers, UK banks and multinational companies – putting you at the heart of the world of business.
Audit relies on an investigative approach, and you'll challenge and question to ensure high audit quality. The work is fascinating and those who are resilient, agile and have a curious mindset will thrive, working alongside some of the brightest minds.
We strive to deliver robust outcomes by working to the highest standards. As part of that, we continue to invest heavily in tech-enabled solutions, which not only allow us to offer deeper insights and higher quality audits, but also a better user experience for our auditors. At the heart of this investment is KPMG Clara, our progressive global collaboration and analytics tool, evolved to help deliver even greater consistency and collaborative working.
You can also look forward to thorough ongoing internal and external training – on most of our programmes, you'll study for the ACA, or the CA qualification for those in Scotland. We know everyone's different and likes to learn in different ways, so for the ACA, we offer two different routes to achieving your qualification. Some people opt to have a blend of work and study over three years (via our Empowered route); others prefer to frontload most of the exams in their first year (through our Intensive route). Either way, you'll finish the programme with valuable technical skills, broad commercial under-standing, and in-depth knowledge of one or more industry sectors, which will allow you to build an exciting and varied long-term career with us in audit.
We're reimagining how we work at KPMG. Our firm is creating a tech-driven business to empower and equip our people to be outstanding in delivery – through inspiring workspaces, innovative ways to collaborate, and hybrid ways of working. In your role, you'll work flexibly across your location region – at KPMG offices, engagement sites and from home. Some travel is likely for audit work and because the work is seasonal, you can expect a greater workload at the busiest times of the year.
Join us, and you can expect to carry out work that's both challenging and rewarding, with the KPMG community at your side. There's a real sense of team across Audit too – we care about each other's well-being and welcome different perspectives and ideas that can contribute to our shared goal of delivering high quality work. Stronger insights and innovation come from understanding and valuing our differences. You'll have the support of your fellow new joiners and our more experienced audit professionals will be on hand to guide you every step of the way.
The future of audit, today
Catherine Burnet - Head of Audit KPMG in the UK
Catherine shares why it's the right time to consider joining us, with numerous opportunities to build a challenging and rewarding career in Audit. She explains how we're building a culture for all our people which, offers high challenge and high support. The focus is on doing great work, which will stretch and test us, while having a culture where we support each other and where you're recognised for the impact you'll make.
Catherine Burnet - Head of Audit KPMG in the UK
The future of audit, today
KPMG Clara brings together powerful data analytics, collaboration and a global audit workflow, into a single intelligent audit platform. Technology is reshaping our world and we have innovated and transformed our audit in response.
Choose your training path towards professional qualification
In Audit, some programmes offer either the ACA or CA depending on office location. For those joining an office in Scotland we offer the ICAS (CA). For other offices we offer different ACA routes that you will be able to select upon applying. These are the ACA Intensive Programme or our ACA Empowered Programme.
Intensive
Qualification: ACA Length: 3 years
Year 1
---
Location
Study full-time near a KPMG training hub in either London, Birmingham or Manchester
Training
10 month study focus to pass 14 of 15 exams
Years 2-3
---
Location
Work at your KPMG base office
Training
Years 2-3 focus is on work experience which includes some travel for work and completion of exam 15 of 15
Empowered
Qualification: ACA or CA (Scotland) Length: 3 years
Years 1-3
---
Location
Work & study near your KPMG office
Training
Blended work experience and study (classroom and online learning) local to your home office location. Some travel will be required for work. Exams spread out over 3 year period
Study
Work experience
Study and work experience
Explore Audit graduate programmes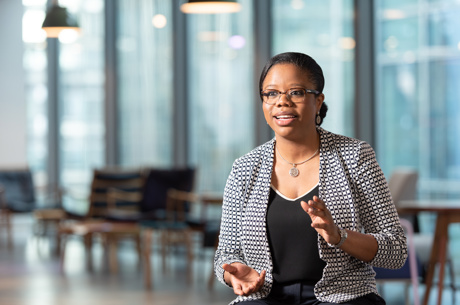 Adaobi
"If you have a desire to learn new things, you can definitely flourish here."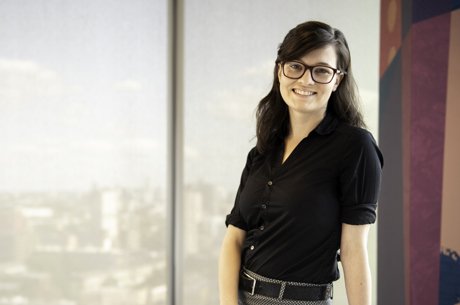 Vanessa
"At KPMG you get the full package of achieving a qualification, working for a global network of firms and meeting lots of amazing people."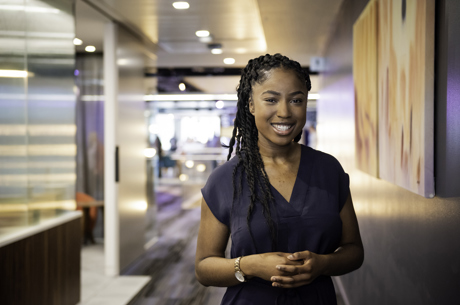 Rukayat
"The people I've met have all just been themselves and also really supportive. I've genuinely felt like there's no such thing as a stupid question. And I really like that."